The Classic Tale of Love: Sketching Lady and the Tramp
The enchanting world of Disney has given us numerous characters that have touched our hearts. Among these tales, the story of Lady and the Tramp stands out not just as an animation marvel, but as a testament to love's power to bridge worlds. This guide helps you channel the romance and charisma of these two iconic characters, teaching you how to draw Lady and the Tramp together.
From Streets to Mansions: Capturing Their Essence
To sketch the pampered Cocker Spaniel, Lady, and the clever, streetwise mutt, Tramp, one needs to understand their unique attributes and essence:
Lady: An American Cocker Spaniel with elegant features, Lady's gentle and refined appearance contrasts with her curious nature. The detailing in her silky fur and expressive eyes are crucial.
Tramp: A charismatic blend of a schnauzer and a terrier, Tramp's rugged charm and clever demeanor come through in his scruffy fur and confident posture. His carefree stride and spark in the eye are his trademarks.
While our guide primarily focuses on sketching Lady and the Tramp, it's a delightful idea to perhaps include other iconic characters like Angel or Scamp, adding depth to the story canvas.
The Magic Behind Every Stroke: Navigating the Sketching Process
With a total of 43 instructive steps, this guide is designed to make your journey as seamless as possible. Before diving into the steps, let's familiarize ourselves with the color coding:
Red Color:

Represents the current step of your sketching process.

Black Color:

Highlights the lines drawn in preceding steps.

Grey Color:

Illustrates the foundational sketch that sets the tone for proportions, especially crucial in the initial three steps.
Upon reaching the culmination of your sketch, you might opt to ink your creation. For those who choose to do so, ensure the ink dries completely before erasing any pencil lines. This careful approach guarantees a smudge-free, crisp outcome.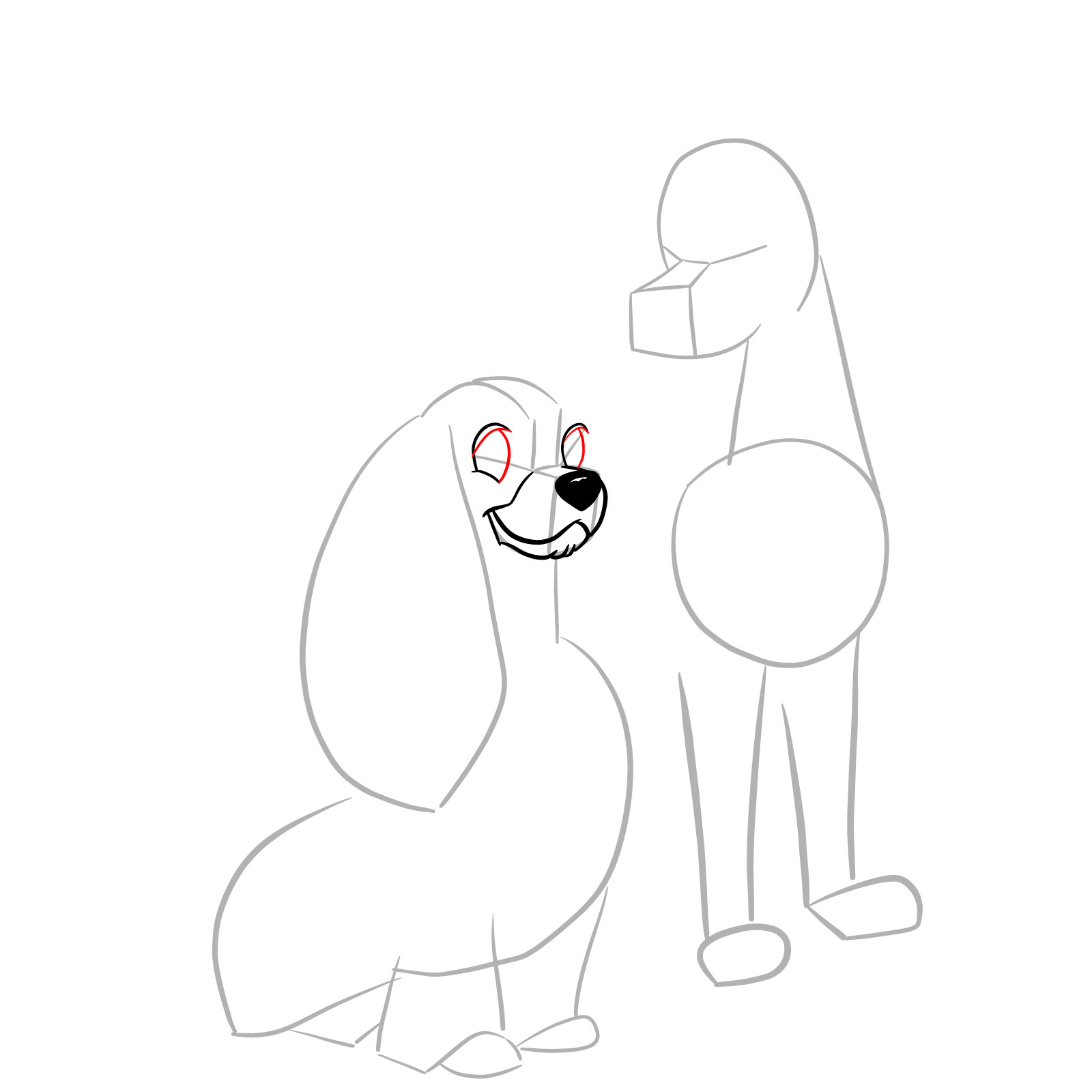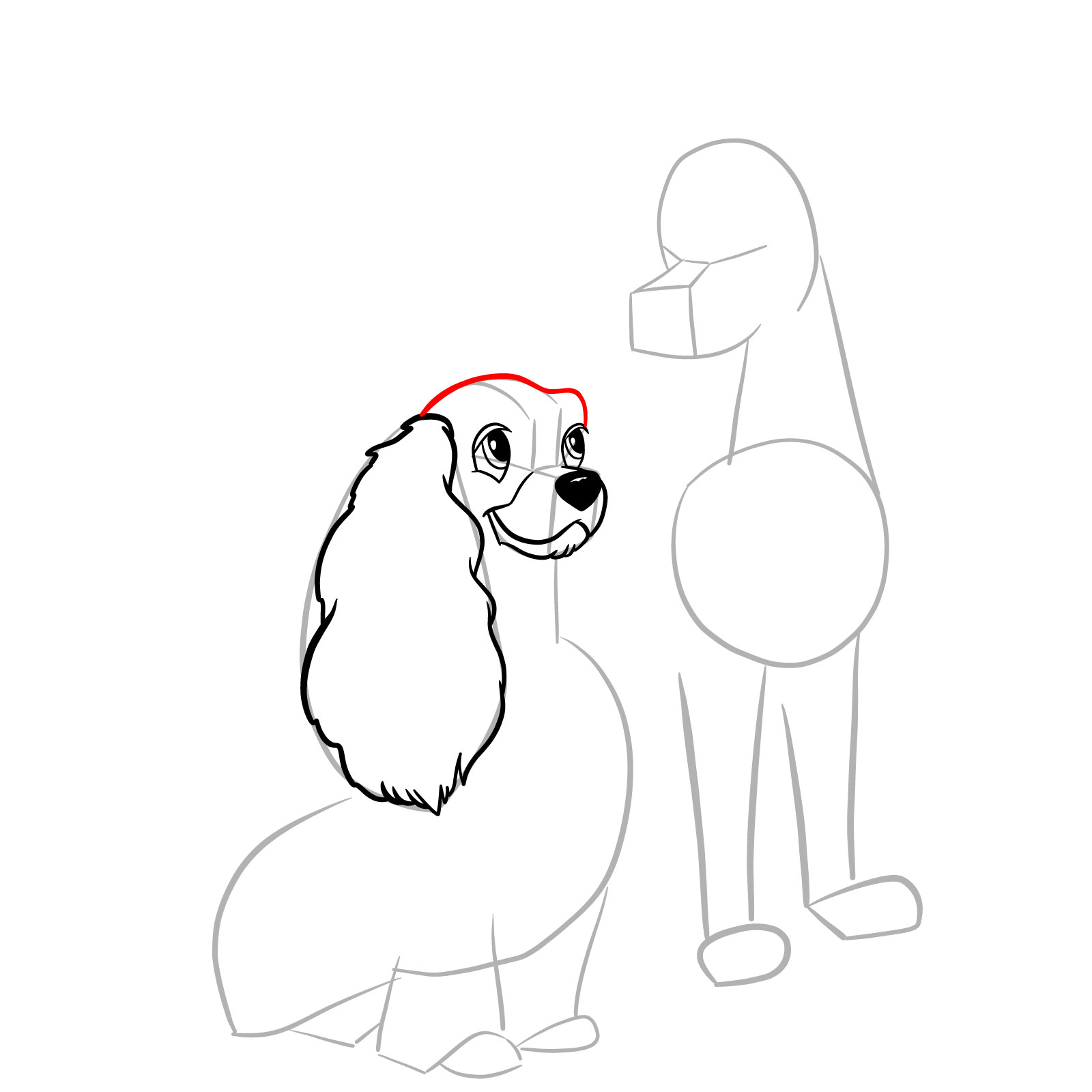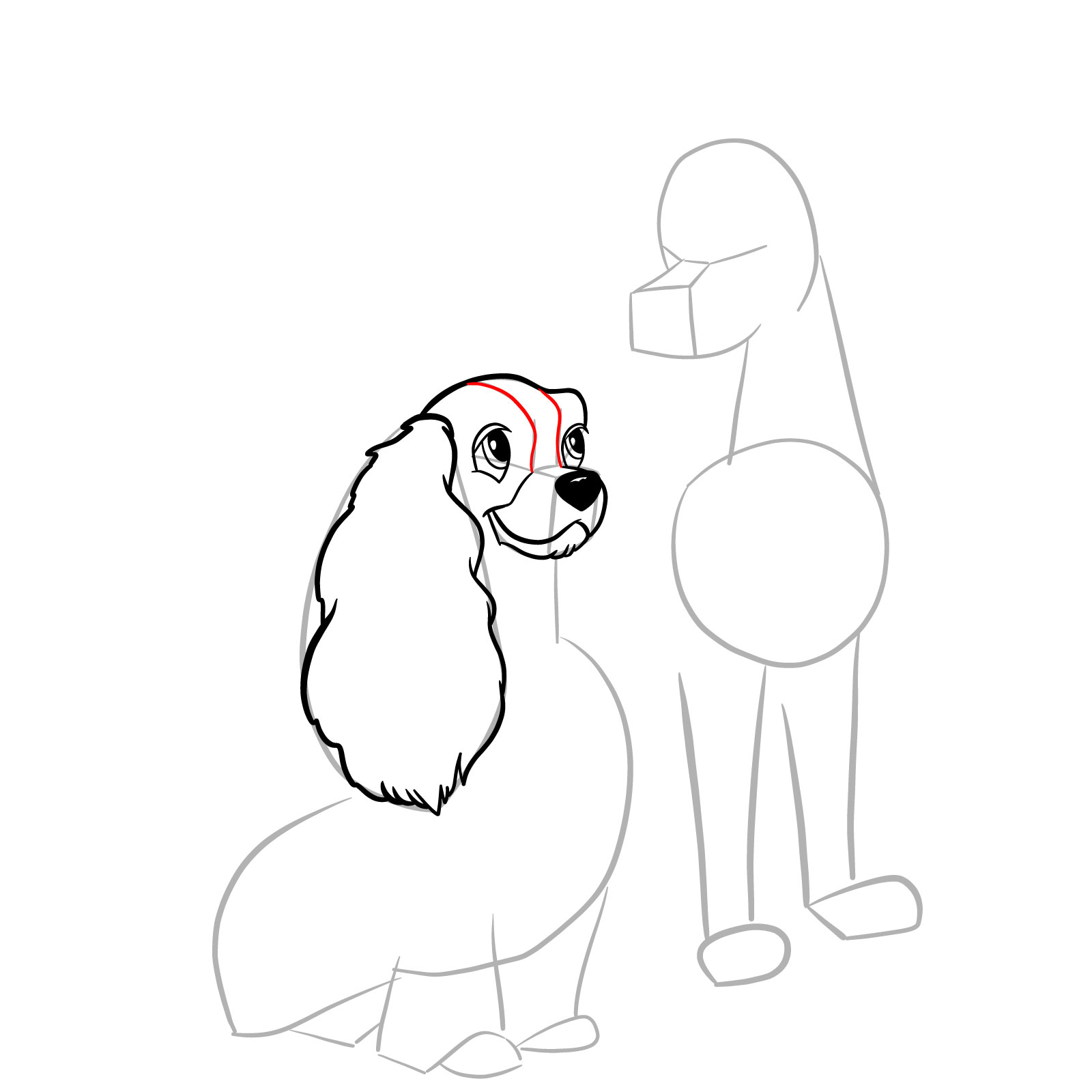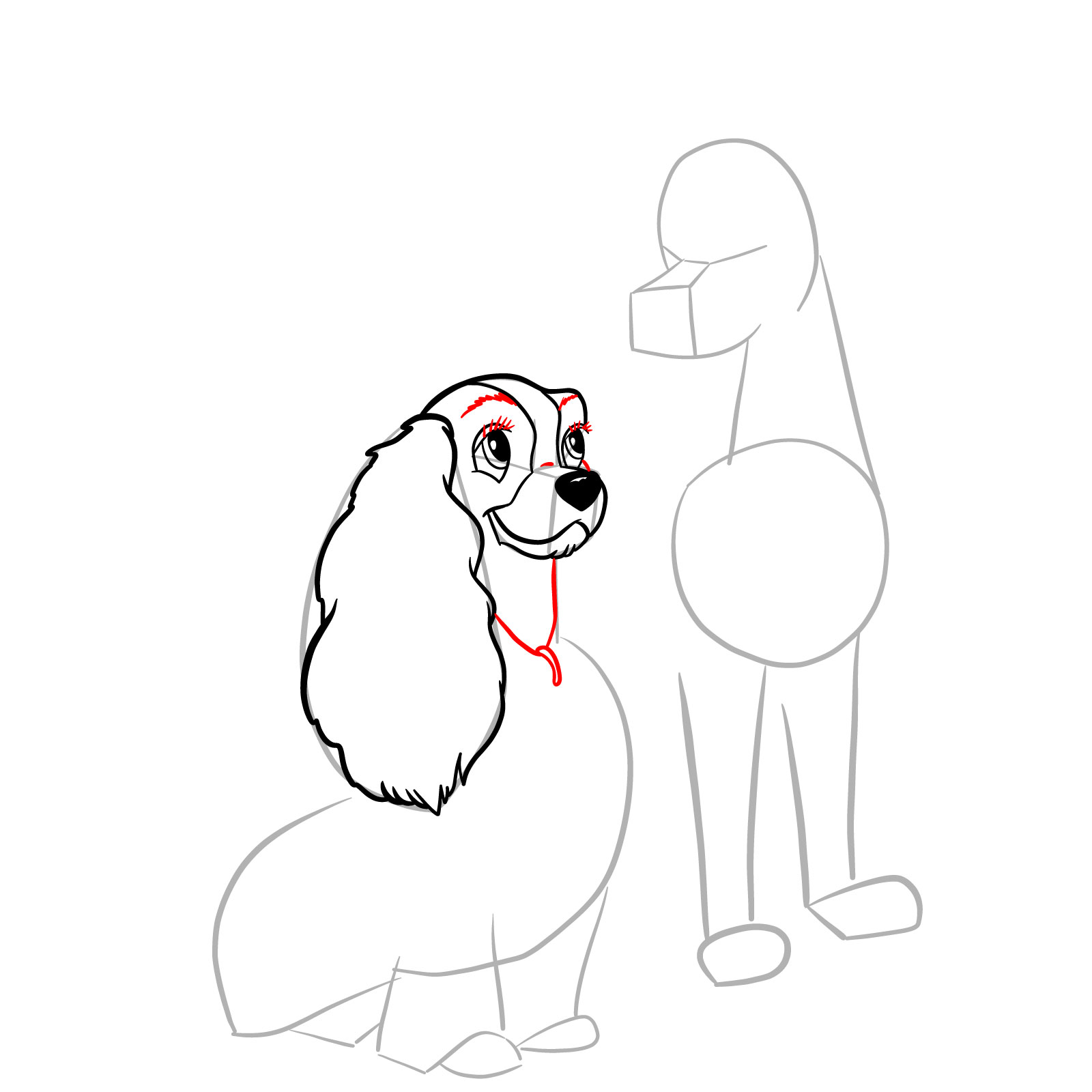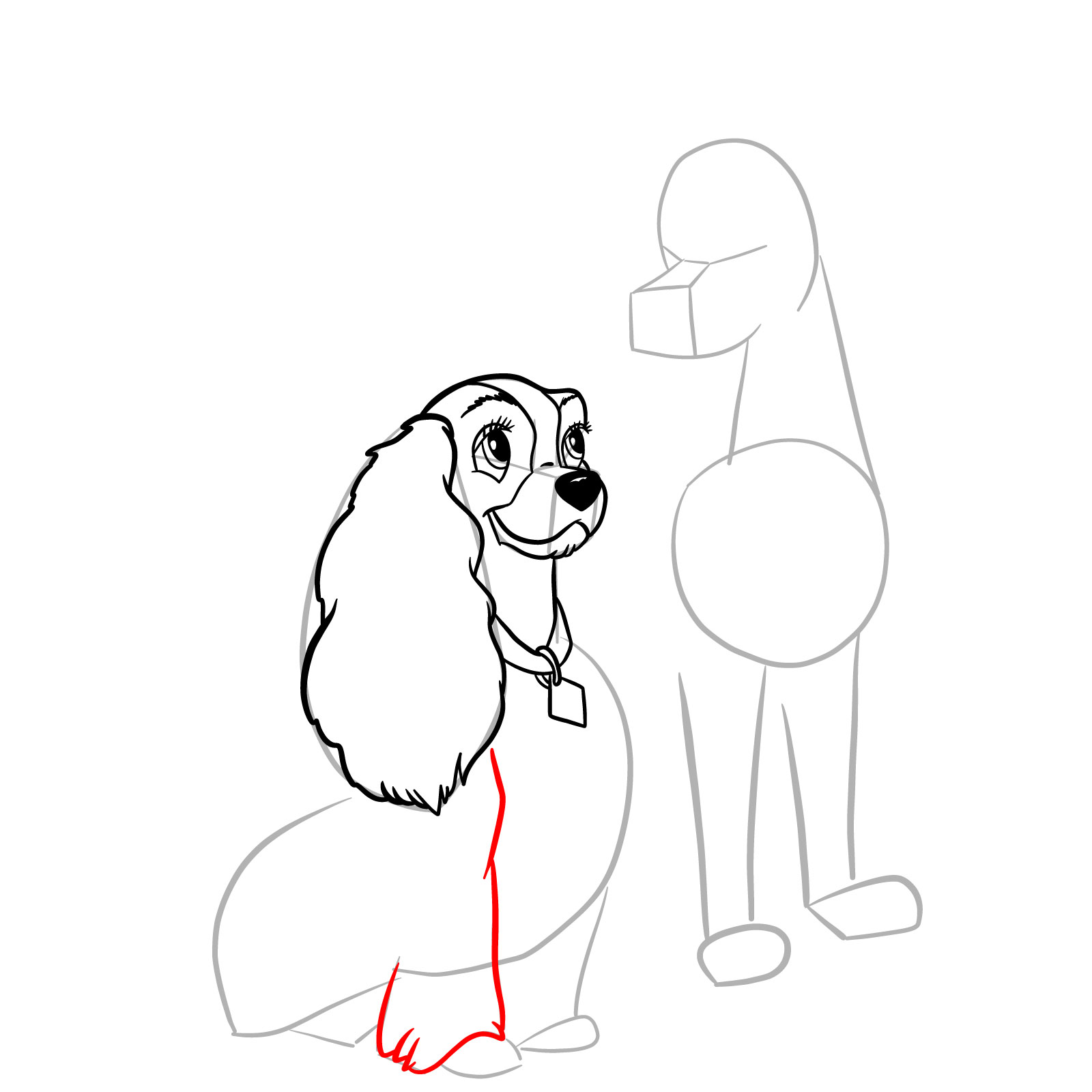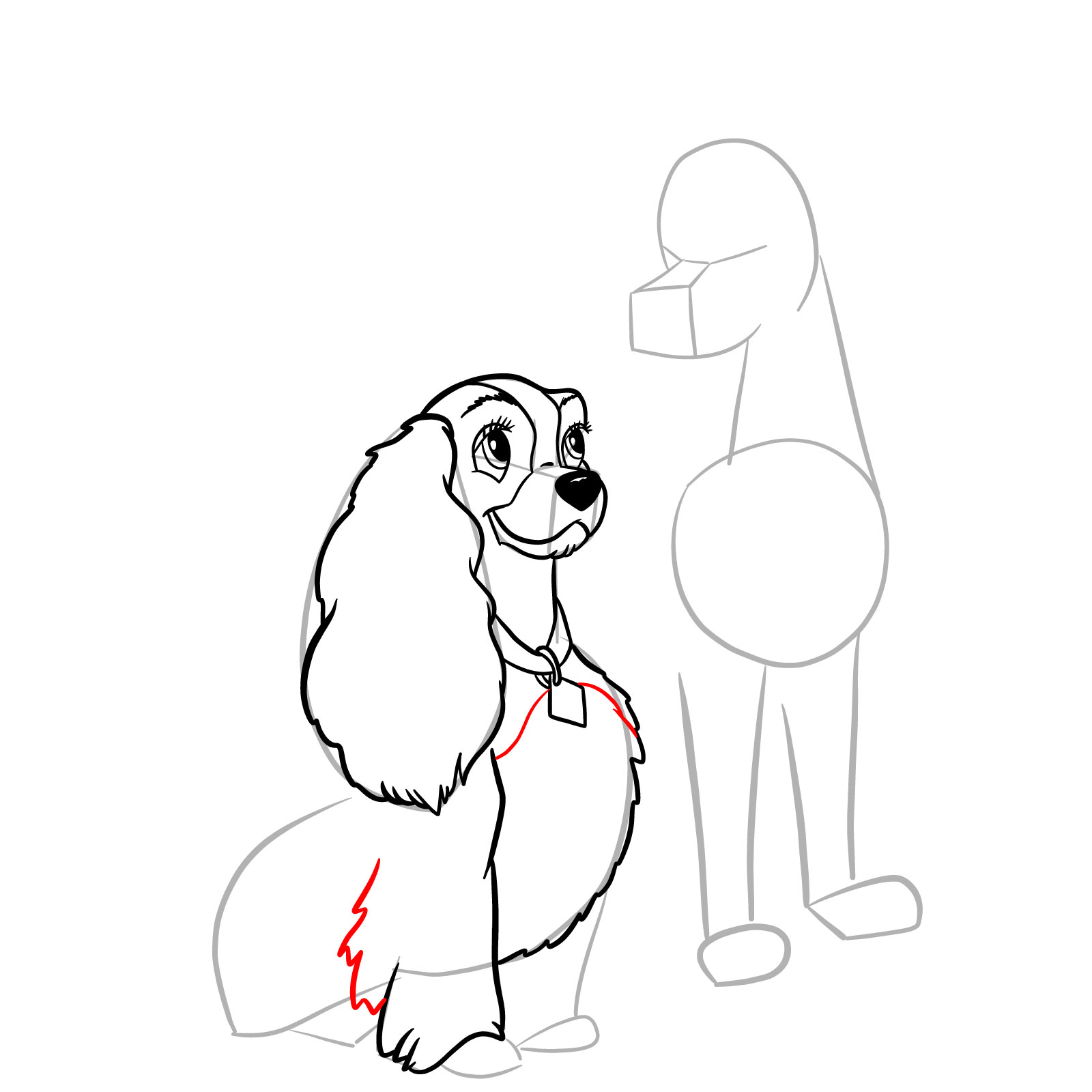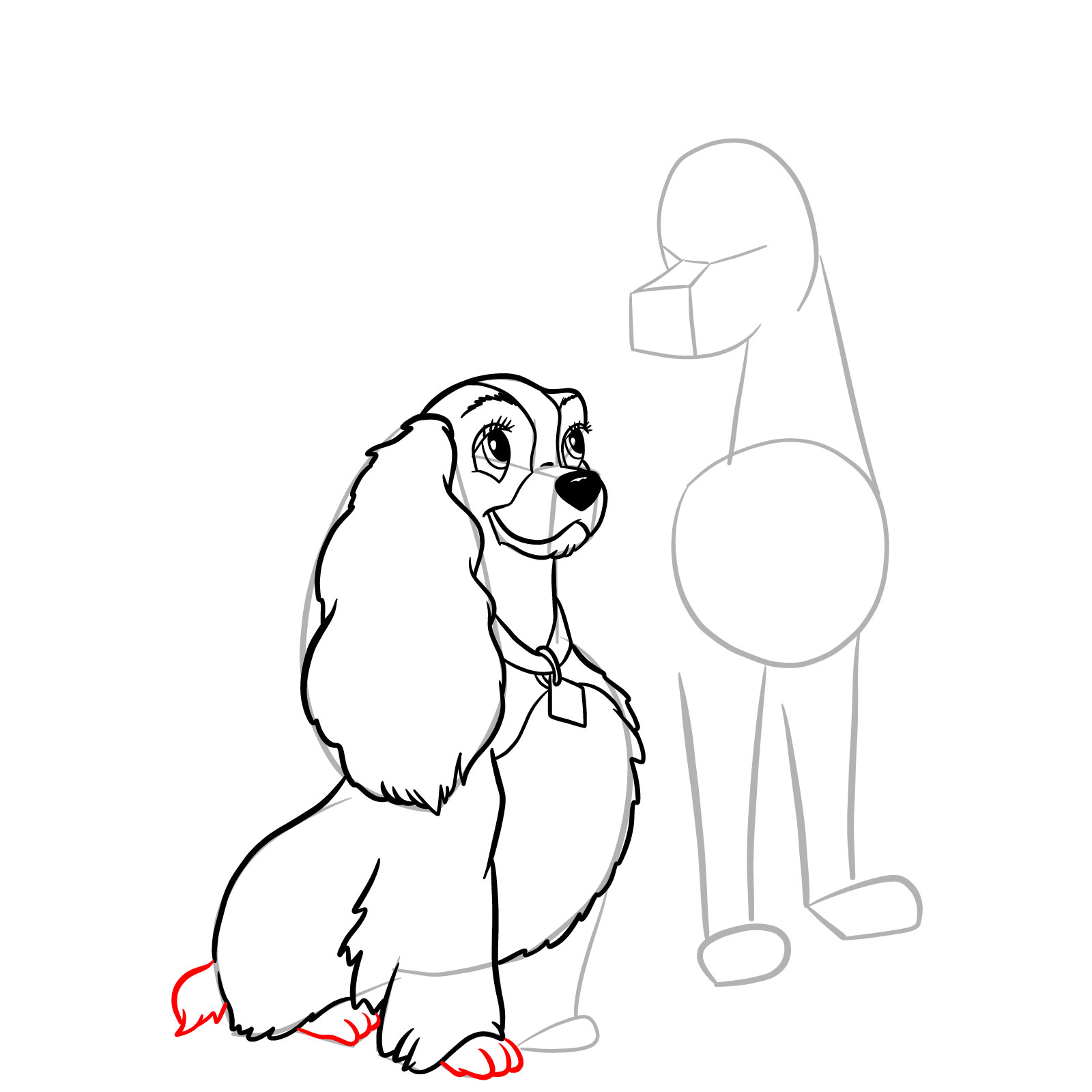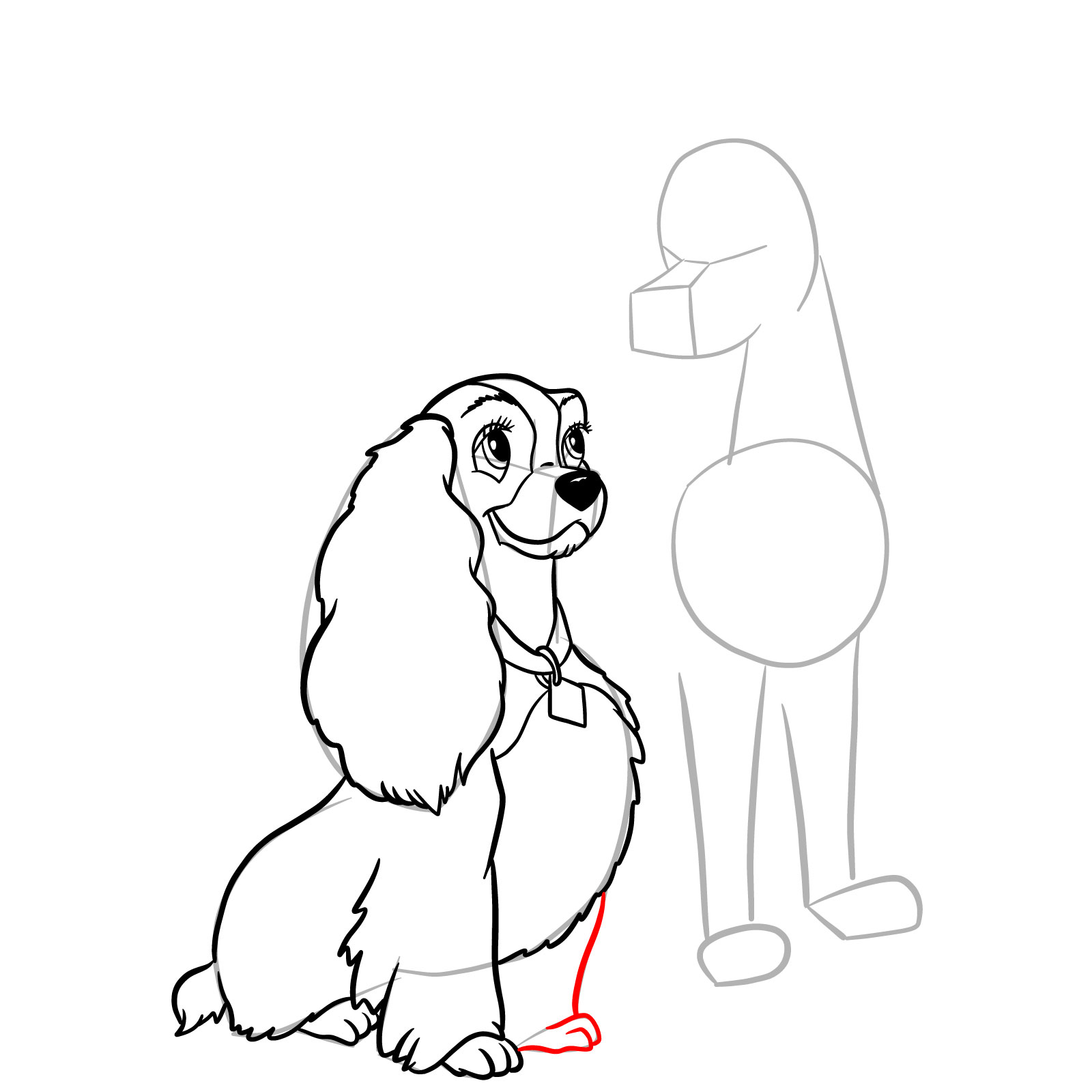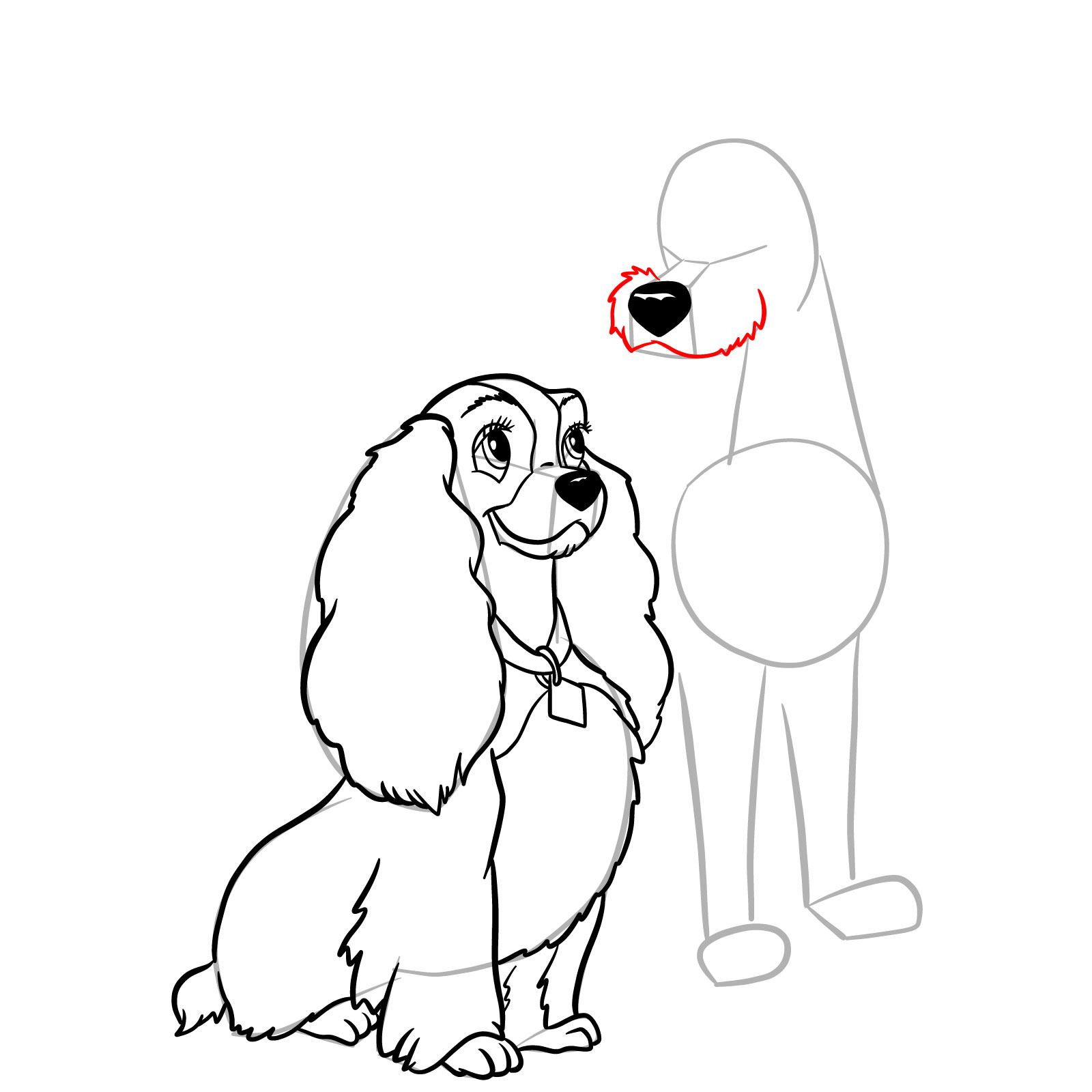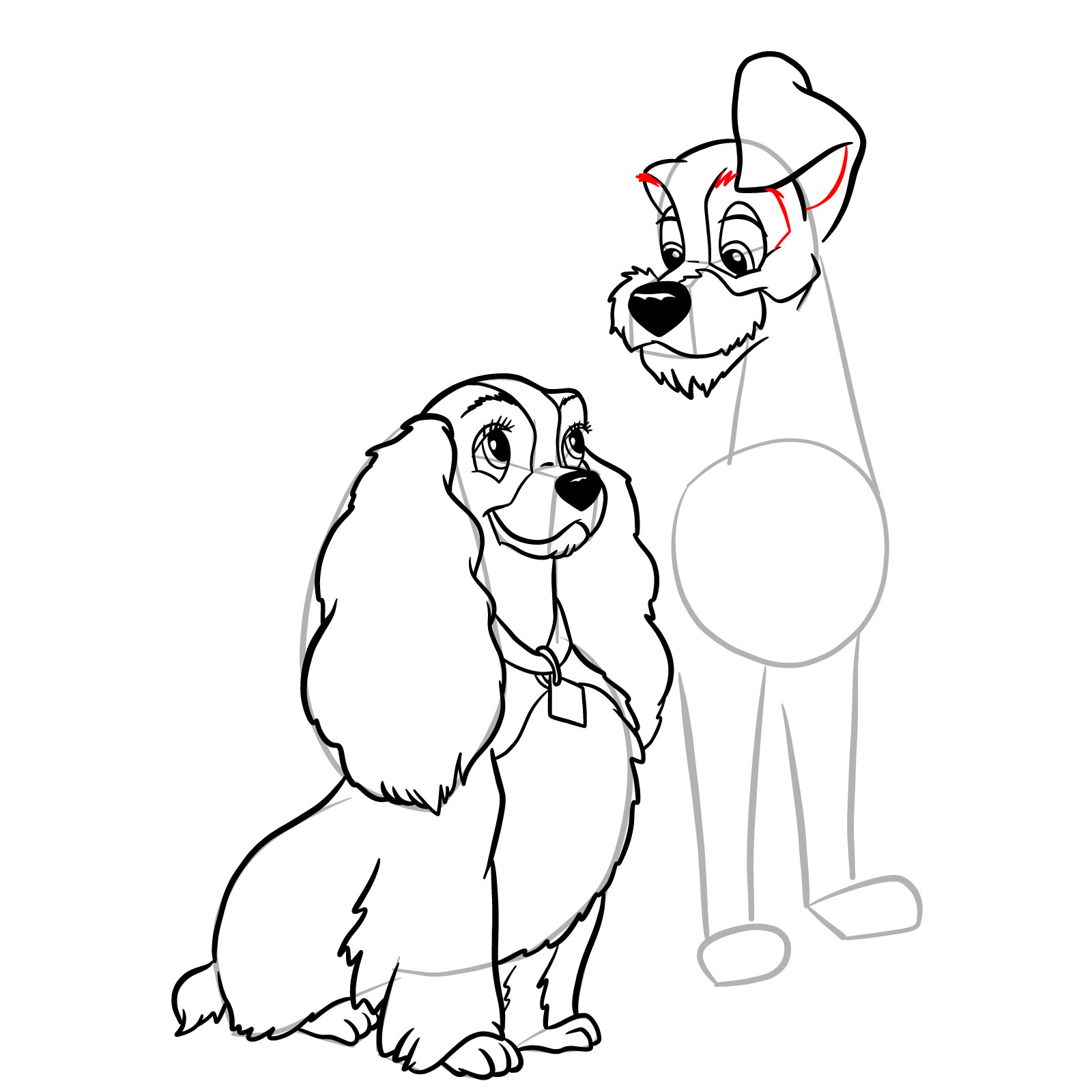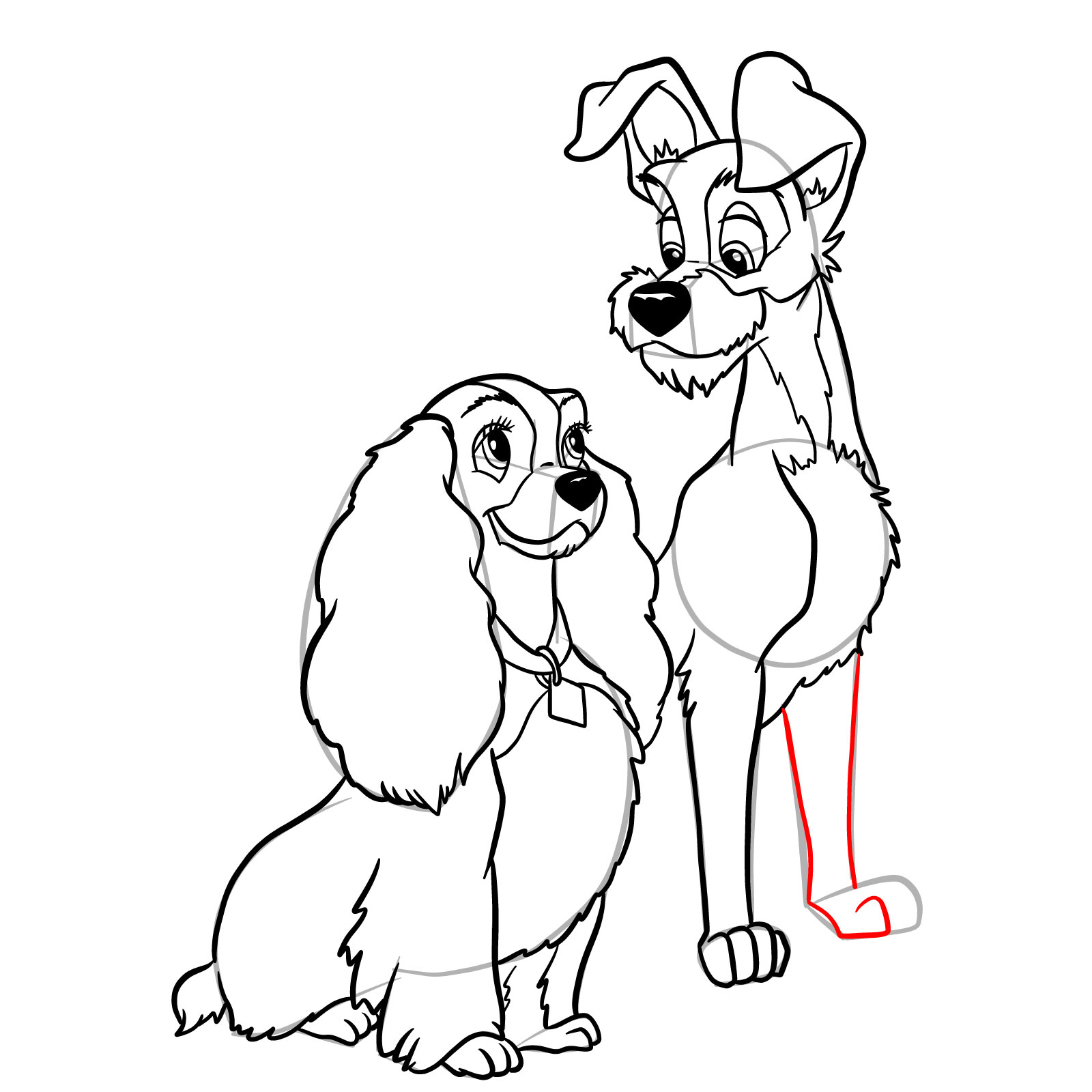 Bringing Lady and the Tramp to Life: Queries Answered
What's the best approach to depict Lady's silky fur?
To capture Lady's lush fur, employ soft, curved strokes, layering them to create depth and volume. Pay close attention to the direction of the fur, especially around her ears and chest, to make it appear natural and flowing.
How can I achieve Tramp's rugged charm in the sketch?
To imbue Tramp with his signature ruggedness, focus on sketching his scruffy fur with uneven, jagged strokes. His confident, slightly tilted head and sly grin will further accentuate his street-smart persona.
Any suggestions for sketching the iconic spaghetti scene?
The spaghetti scene is a blend of romance and humor. Start with a shared plate in the center, with both characters leaning in. Ensure their eyes meet with a gentle gaze. The strand of spaghetti connecting them becomes the focal point, symbolizing their growing bond.
Wrap Up
As we wrap up this artistic adventure on how to draw Lady and the Tramp, I'm filled with gratitude for your trust in this guide. Every line you sketch enriches the world of art. If you found this guide enlightening, I invite you to donate. With your support, we can keep creating free drawing guides, bringing more characters to life, and even entertain new tutorial suggestions. Help spread the love of art by sharing the link to our guide and connecting with us on Facebook, Instagram, and Pinterest. Together, let's continue to illustrate magical stories, one character at a time.