Have you ever wondered how to sketch iconic characters from your favorite animated series? If your answer is a resounding 'yes', then you're in the right place. This tutorial will guide you on a thrilling artistic journey as you learn how to draw Igoo the Rock Ape, a beloved character cherished by many fans worldwide.
Envisioning Igoo: The Rock Ape's Unique Appearance
Igoo is a distinctive character with a unique and appealing design. As a towering simian, he's known for his dense, rock-like skin that appears rugged and unyielding. His muscular form conveys immense strength, while his facial features convey a protective spirit, especially towards Tara, who he's deeply devoted to.
When drawing Igoo, it's vital to focus on these unique traits, as they play a significant role in bringing out his character. Here are a few key points to consider:
His large, imposing stature and muscular frame
His dense, rock-like skin texture
His gentle yet powerful facial expressions
An Overview: Color Coding and Guidelines
In this drawing guide, you'll find a step-by-step approach with 14 clearly defined steps. The guide uses color-coding to help you understand the process better:
Red Color:

Represents the current step you should be focusing on.

Black Color:

Showcases the lines you have previously drawn.

Grey Color:

Indicates the basic sketch, which forms the underlying structure of your drawing.
The first step involves creating a basic sketch of Igoo using light pencil strokes. This is a crucial step, as it sets the foundation for the drawing. The final step gives you the option to ink your sketch. After inking, you should wait for the ink to dry and gently erase the pencil sketch. This results in a clean, professional-looking sketch of Igoo the Rock Ape.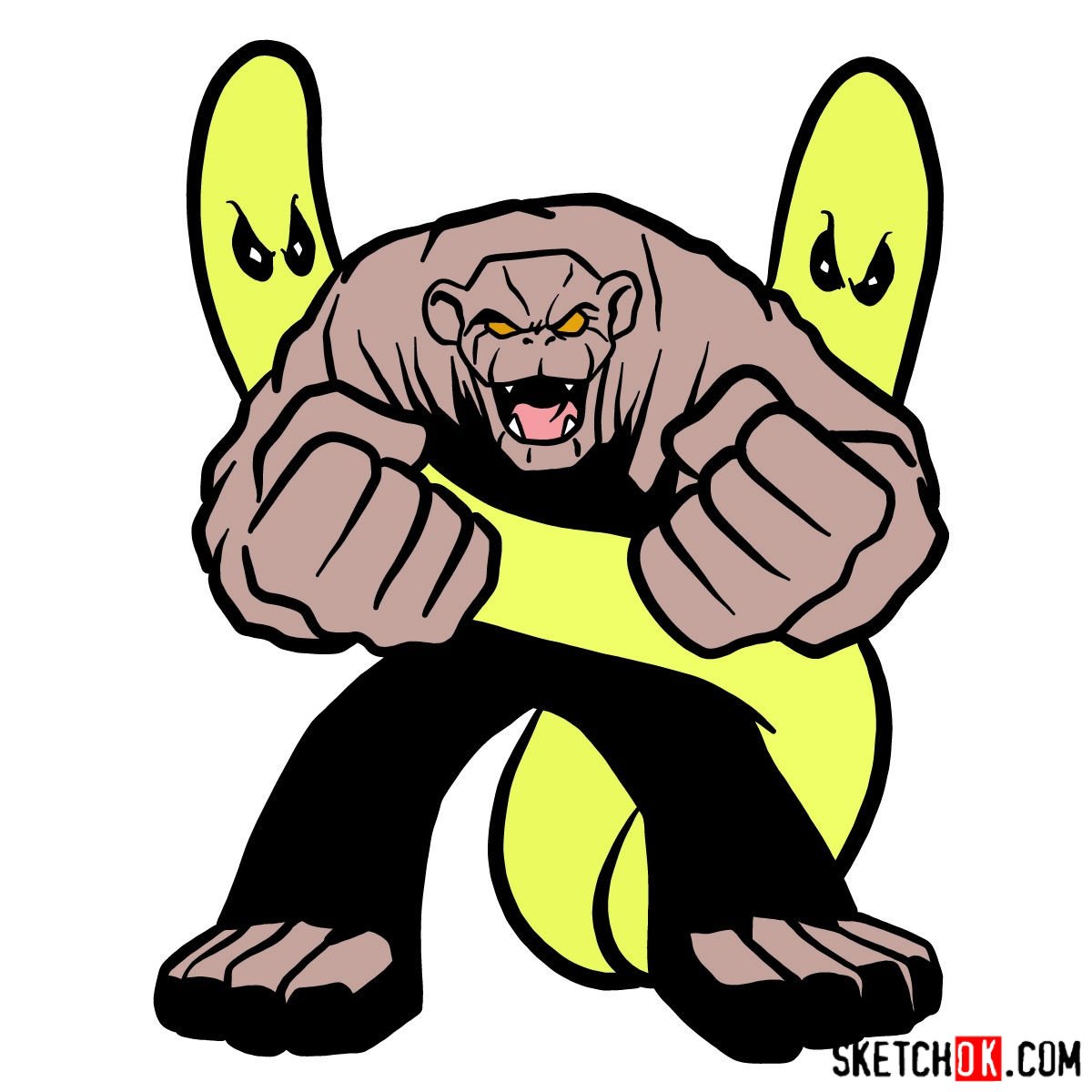 Wrap-up: Unleashing Your Inner Artist
Now that you've learned how to draw Igoo the Rock Ape, why not share the joy of drawing with others? Spread the word about this guide anywhere on the web. Sharing not only helps others learn how to draw their favorite characters, but it also supports the continued creation of these free guides.
Speaking of support, did you know that your donations play a crucial role in keeping the SketchOk project alive? Your kind contributions help us create these free drawing guides. So, if you found this tutorial useful, consider donating at Buy Me A Coffee.
Lastly, don't forget to stay connected with us. Subscribe to our social media platforms on Facebook, Instagram, and Pinterest to stay updated with our latest tutorials and guides.
Remember, learning how to draw is a journey filled with personal growth and creativity. So, don't stop here. Explore your passion and keep on sketching!