The world of animation has given us countless memorable characters, and Barrington "Barry" Augustus Buns III from the series Kiff is no exception. As the deuteragonist, Barry accompanies Kiff Chatterley on her numerous mountain adventures, becoming a favorite for many. If you're looking for a guide on how to draw Barry, you've come to the right place. Our step-by-step tutorial is here to assist you in bringing this sweet and mellow bunny to life on paper.
Zooming in on Barry: Key Features to Highlight
Species: An anthropomorphic bunny, setting him apart from typical cartoon rabbits.
Fur Coloration: Barry flaunts light blue fur, contrasted by white on his belly, tail, and paw pads.
Facial Features: Large round eyes with small pupils and a distinguishing pink oval-shaped nosemake Barry instantly recognizable.
Physique: Don't forget his long ears and small fluffy tail – integral parts of his character design.
Drawing characters like Barry can be a gateway to sketching other favorites from the series. Once you're comfortable with Barry, why not try your hand at Kiff Chatterley or the other mountain residents?
Sketching Tips
Before diving into the actual guide, remember that every artist has a unique style. Start with light pencil strokes for the initial proportion sketch. As you gain confidence, let your personal style shine through. The aim is to capture Barry's essence, not to create an exact replica.
Decoding the Guide: How It Works
This guide consists of 18 meticulously crafted steps, designed to ease your journey from a blank canvas to a finished sketch of Barry. Each step in our high-quality images builds upon the last, gradually adding detail until Barry comes to life.
Red Color:

Highlights the current step. This is where your focus should be.

Black Color:

Represents the lines drawn in the previous steps.

Grey Color:

Demonstrates the basic proportion sketch. This forms the foundation of your drawing.
The first stage emphasizes creating a basic proportion sketch of Barry. As you progress, details will be layered on. By the final stage, you have the option to ink your sketch. If you choose to ink, it's crucial to wait for the ink to dry thoroughly before gently erasing any visible pencil lines. This ensures your artwork remains clean and smudge-free.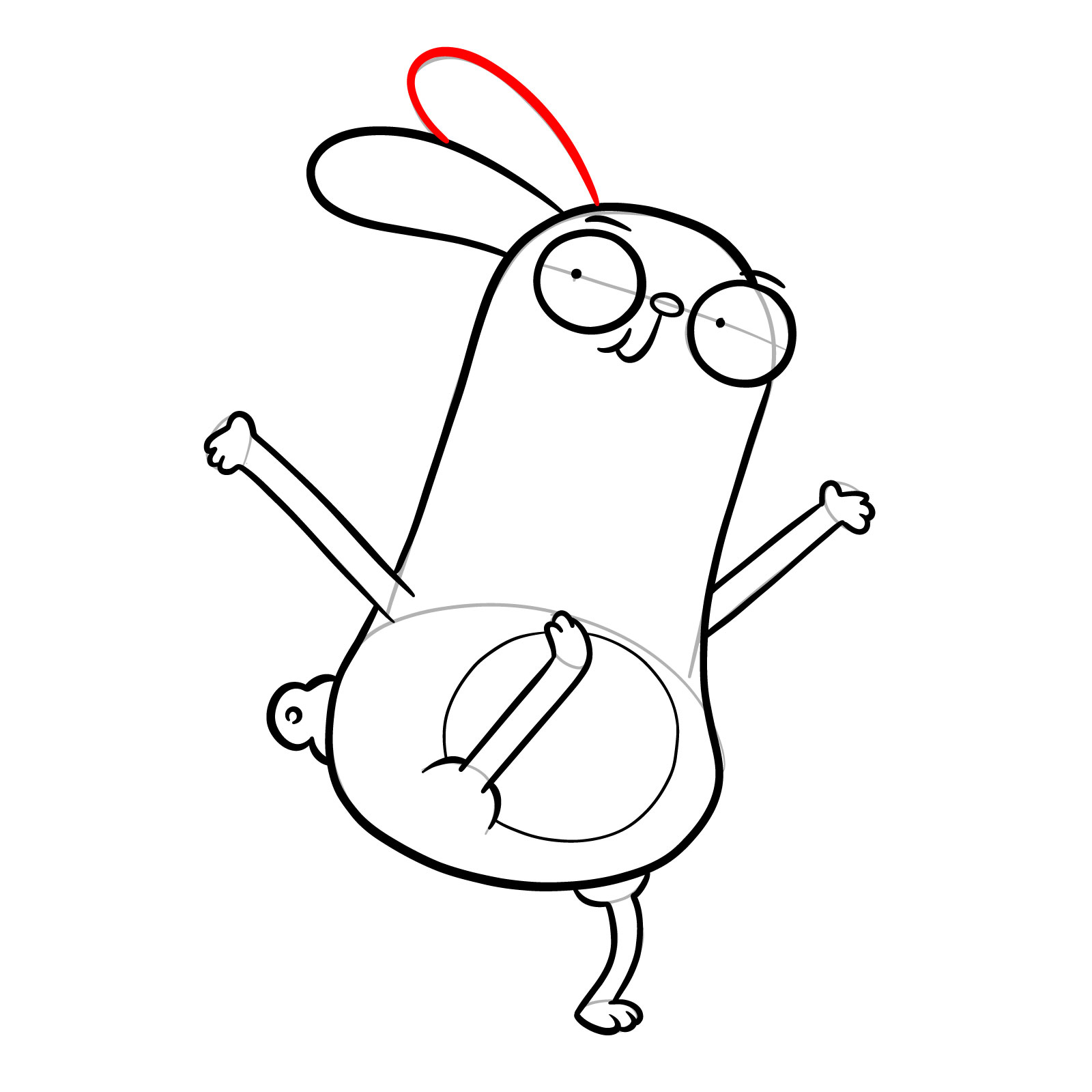 Did You Know?
Barry's character might have a hidden talent. Given his sweet and mellow nature, it's hinted that he might have an inclination towards singing. Keeping this in mind can inspire certain postures or expressions while drawing him.
As you continue drawing Barry Buns, remember that every stroke brings you closer to mastering this craft. If you've found this guide valuable, consider sharing it with fellow enthusiasts. Every share amplifies the artistry in the world. Moreover, if you wish to see more tutorials or have suggestions for future content, your support via donations is deeply appreciated. Every donation message on Buy me a coffee holds the potential to guide the future topics covered. Let's co-create, and if you're on social media, don't forget to follow SketchOk on Facebook, Instagram, and Pinterest for more updates and inspirations.