Art has an incredible way of capturing the essence of characters, especially ones as vibrant as King River Butterfly from Mewni. Whether you're a seasoned illustrator or a budding artist, this guide offers a step-by-step breakdown on how to draw King Butterfly, one of the beloved figures of the Mewni Kingdom.
A Glimpse at the King: River Butterfly's Characteristics
Physical Stature: River is notably stout and shorter in stature, radiating a blend of strength and nobility.
Facial Features: He possesses light blue eyes and a rich, thick mustache that splits in two ways, accompanied by a beard and a bald spot under his crown.
Attire Details: His royal attire is a testament to his position – donning a blue ruffled coat with gold shoulder pads, periwinkle tufts, cuffs. Not to forget his gray pants and black boots which complete his look.
If you're intrigued by Mewni's other residents, consider also sketching Moon Butterfly or Star Butterfly to complement your artwork.
Unfolding the Guide: Understanding the Tutorial
Before we venture further, it's essential to understand the tutorial's guidelines:
Red Color:

Signifies the current drawing step.

Black Color:

Highlights the lines you've drawn in previous steps.

Grey Color:

Indicates the basic sketch, which aids in maintaining proportions. Ensure to use light strokes for this initial outline.
This guide consists of 16 comprehensive steps. The inaugural step is all about creating a foundational sketch. Upon reaching the concluding stages, artists have the choice to ink their sketch. Once the ink is thoroughly dried, consider erasing the pencil marks to achieve a neat finish. For added inspiration, the last image depicts a colored version of King Butterfly, serving as an ideal color reference for those looking to breathe life into their sketches.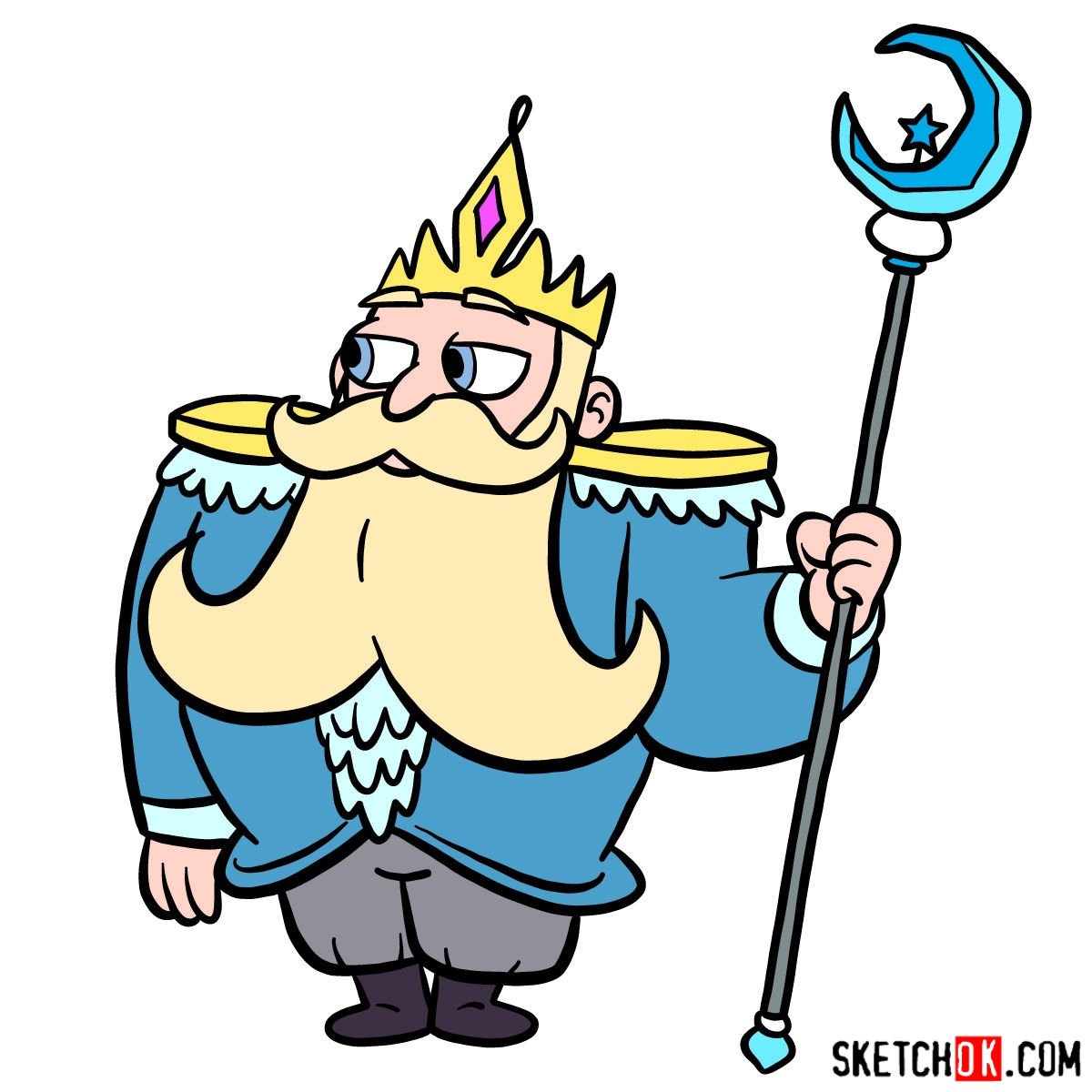 Concluding Thoughts
As we wrap up our how to draw King Butterfly guide, we hope it paves the way for countless masterpieces. By sharing this tutorial, you're not only supporting fellow artists but also fueling our mission at SketchOk. Follow us on Facebook, Instagram, and Pinterest. If you found this guide valuable and wish to see more, consider donating. Your contributions help in crafting future tutorials, ensuring artists everywhere continue learning and growing.