From Piglet to Fairy: The Journey of Drawing Peppa
Everyone's beloved piglet, Peppa, has donned many hats over the years. Today, we embark on an artistic adventure to capture her in a new outfit. Whether you're a seasoned artist or picking up the pencil for the first time, this guide will show you how to draw Peppa Pig in a fairy costume with confidence and flair.
The Magic of Peppa's Fairy Costume: Key Points to Note
Wings: Delicate, they're the essence of her fairy character.
Dress: Her classic dress is still in place.
Wand: A quintessential accessory for every fairy, Peppa's wand has a four-pointed star at the tip.
Tiara: Adorning her head is a dainty tiara, making her royalty in the fairy world.
If you enjoyed drawing Peppa, consider adding her brother, George, or perhaps Mummy Pig and Daddy Pig as fairyland monarchs to your collection.
Understanding the Guide
Our guide comprises 10 meticulously crafted steps to help you recreate Peppa's fairy avatar. Before we delve into the process, it's crucial to understand the color-coding:
Red Color:

Indicates the lines and parts you should be focusing on for the current step.

Black Color:

Represents the lines from the previous steps.

Grey Color:

Demonstrates the basic proportion sketches. Remember, the initial step revolves around setting this foundational sketch.
Once you complete the sketch, you might want to ink it for a polished look. Use a fine-tip ink pen, allow it to dry thoroughly to prevent smudging, and then gently erase the underlying pencil lines for a clean finish.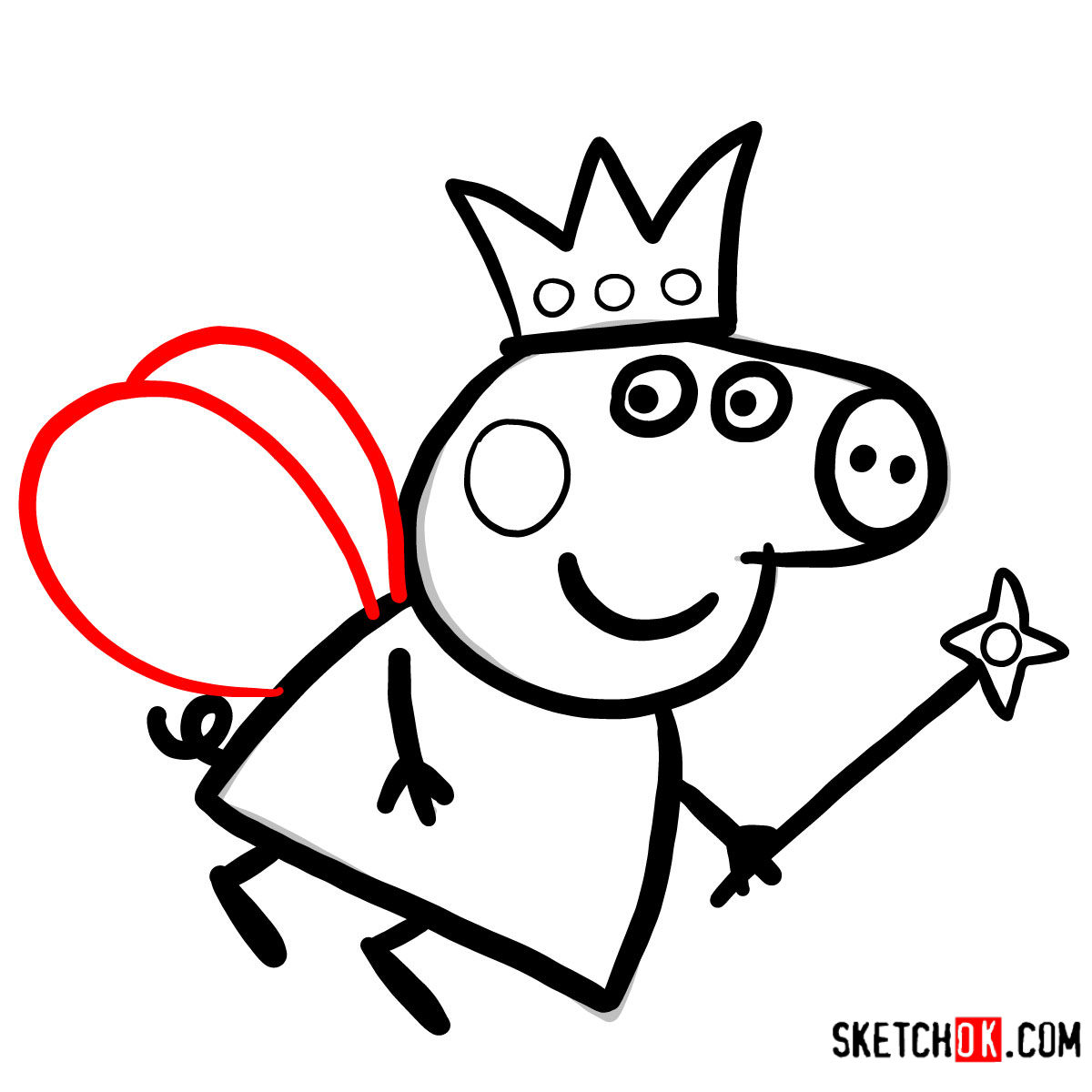 Frequently Asked Queries
What's the best approach to sketch Peppa's delicate fairy wings?
For the wings, start with a light outline, capturing their overall shape. Focus on the natural curve and don't be affraid of the slight ripples at the edges.
Any tips for adding the finishing touches, like the tiara and wand?
For accessories like the tiara and wand, precision is key. Use gentle strokes, and focus on symmetry, especially for the tiara. The wand's star should be well-defined, showcasing its magical essence.
Wrapping Up the Magical Experience
It's been a joy guiding you through how to draw Peppa Pig in a fairy costume. By sharing this tutorial, you not only spread the joy of art but also support us in crafting more guides. Don't forget, every donation helps us bring more tutorials to life. Your support allows you to propose new ideas and keeps our mission alive.
Consider supporting us here, and do follow our creative journey on Facebook, Instagram, and Pinterest. Together, let's keep the artistic flame burning bright!