If you've grown up watching 'Hey Arnold!', the stern face of Principal Wartz must be familiar. As a prominent figure in the series, learning how to draw Principal Wartz can add a nostalgic touch to your sketchbook. Whether you're revisiting your childhood favorites or simply expanding your drawing repertoire, this guide is tailored for you.
Character Insights: Principal Wartz
Personality: Being the principal, Wartz carries an air of authority. He's disciplined, sometimes to the point of being harsh, yet there's an underlying softness hidden beneath his strict exterior.
Physical Appearance: Wartz is an emblem of middle age. His distinctive features include being heavy-set, a bald crown contrasted with gray hair on the sides, and the unavoidable warts on his nose. These features make him an interesting character to sketch.
Outfit: Dressed to fit his role, he's often seen in a crisp white dress shirt paired with blue slacks. The red tie and black loafers add finishing touches to his outfit.
On your drawing journey, you might also consider sketching other personalities from 'Hey Arnold!' like Robert Simmons or Arnold himself to create a themed collection.
Deciphering the Guide
Red Color:

Represents the step currently in focus. Ensure you're giving this your utmost attention.

Black Color:

Signifies the lines you've previously drawn. This will help in tracking your progress and understanding the sequence.

Grey Color:

Displays the foundational sketch. This step aids in maintaining proportions and gives direction to the entire sketch.
The guide has a total of 9 stages. Initiate your drawing process by constructing a basic structure using light pencil strokes, this will act as the skeleton for Principal Wartz. As you advance, the concluding steps allow you to ink your sketch. Remember, patience is key. Wait for the ink to dry before you erase the pencil lines. This will ensure a cleaner and more refined artwork.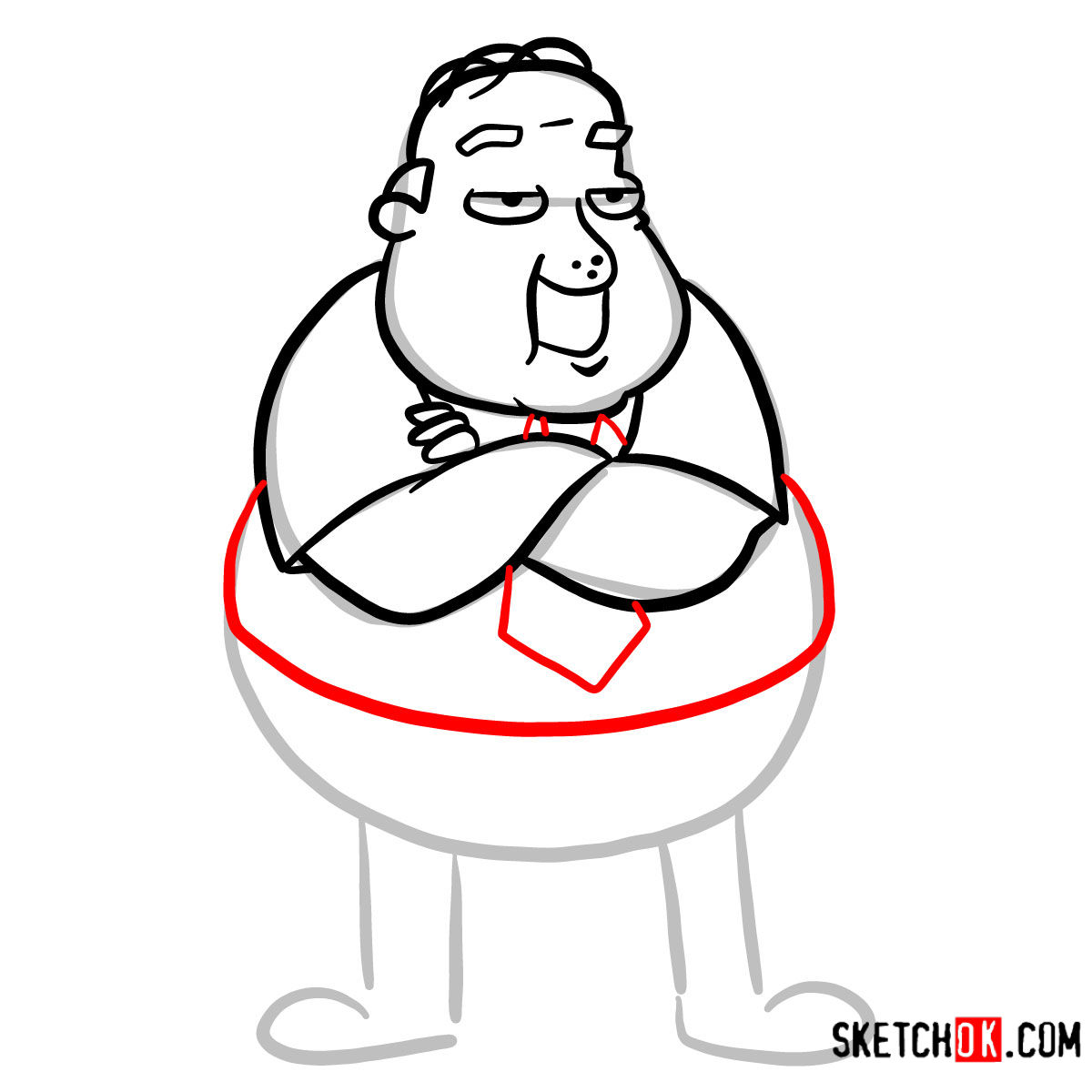 By now, you'd be well on your way to crafting a stunning sketch of Principal Wartz. Drawing, like any other skill, improves with practice. So, keep sketching, keep refining, and remember, every pencil stroke is a step closer to mastery.
If you found this guide helpful and wish to see more of such tutorials, consider donating. Your support not only fuels the creation of more free drawing tutorials but also allows you to suggest new tutorial ideas. Share this guide on Facebook, Instagram, Pinterest, or anywhere on the web. By spreading the word, you help others in their artistic journey.