Are you a fan of the hit TV show Family Guy and its iconic characters Stewie and Brian Griffin? Do you want to learn how to draw them together in an epic adventure of your own creation? Look no further, because we've got you covered! In this ultimate drawing guide, we'll take you through the step-by-step process of bringing these two beloved characters to life on paper. So grab your pencils and let's get started!
Double the Fun: Exploring the Looks and Dynamic of Stewie and Brian Griffin
Stewie and Brian are two of the most beloved characters on Family Guy. Stewie, the baby of the family, is known for his British accent, intelligence, and diabolical schemes. Brian, the family's talking dog, is often the voice of reason in the show and serves as a friend and mentor to Stewie.
Stewie is depicted as a small baby with an oversized head and an adorable grin. He is often seen wearing his signature red overalls and yellow shirt. Brian, on the other hand, is a white anthropomorphic dog with a big black nose. He is often seen wearing his red collar and is known for his smooth and sophisticated demeanor.
Despite their differences, Stewie and Brian share a deep bond that is often the focus of the show's storylines. From time-traveling adventures to musical numbers, these two characters have been through it all together. And now, with our drawing guide, you can bring them to life on paper.
Drawing Guide of Stewie and Brian
Before we get started with the step-by-step drawing guide, let's go over some basic materials you'll need. You'll want to have pencils, erasers, and paper on hand. You may also want to consider using colored pencils or markers to add some extra flair to your final product.
Our drawing guide will take you through the 12 steps needed to draw Stewie and Brian together in an epic adventure. We'll start with the basic shapes and outlines and work our way up to the final details that bring these characters to life.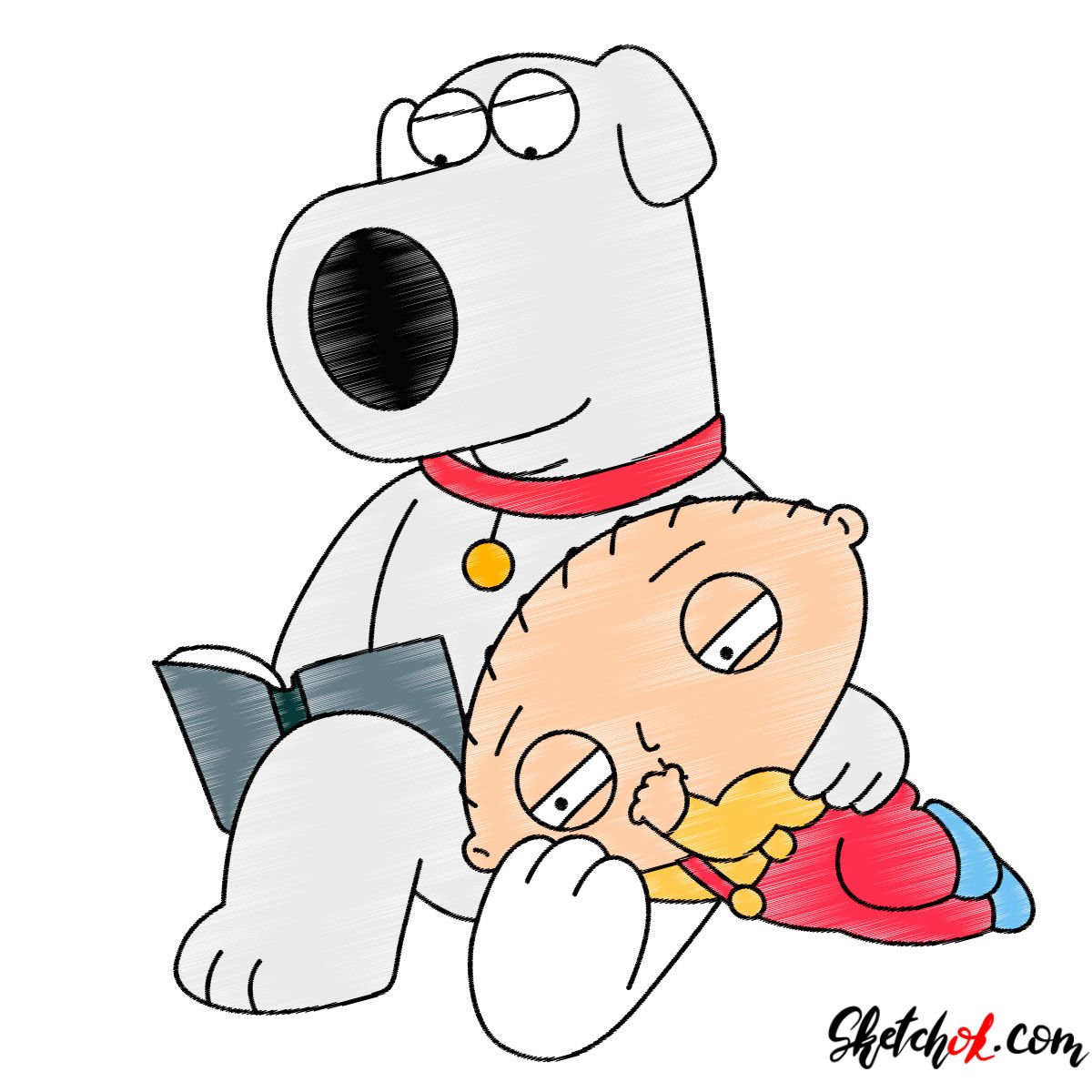 We hope this ultimate drawing guide has helped you bring your favorite Family Guy characters, Stewie and Brian, to life on paper. Remember, practice makes perfect, so don't be afraid to try again if you're not happy with your first attempt. And if you found this guide helpful, please consider supporting us on Buy Me a Coffee so we can continue to bring you more fun and informative drawing guides in the future.
Now that you've got the dynamic duo down, it's time to add some more characters to the mix! Here are some other characters you can draw alongside Stewie and Brian:
Have fun exploring the many wacky and memorable characters from the world of Family Guy!