Diving into the world of Ever After High, one cannot overlook the captivating Raven Queen. Introduced in 2013, this character stands out not as the typical villain but as a beacon of free will, breaking stereotypes. As the successor of the Evil Queen from the tale of Snow White and the Seven Dwarfs, her role as a student at Ever After High and her position in the destiny conflict as a Rebel sets her apart. But it's her decision to challenge her prescribed fate that truly distinguishes her, making her an inspiration for many. So, let's start learning how to draw Raven Queen right now!
Focal Points of Raven Queen's Appearance
Eyes: Striking violet that speaks volumes about her rebellious nature.
Hair: A blend of black, deep purple, and maroon, wavy in texture.
Complexion: Pale, contrasting beautifully with her dark attire and vibrant hair.
Fashion Sense: Intricate designs with lots of silver, grey metals, set against a backdrop of rich purple and black. Noteworthy are the spikes, chains, feathers, and dragon-style scales that she often adorns.
Drawing Raven might prompt you to explore other characters of Ever After High. Apple White, as the next Snow White and a student with opposing views on destiny, might be a complementary addition to your artistic repertoire.
About this Drawing Guide
For those eager to bring Raven Queen to life on paper, it's crucial to understand the guide's structure:
Red Color:

Represents the immediate step in the tutorial, capturing your focus.

Black Color:

Highlights lines from previous steps, helping you trace your progression.

Grey Color:

Depicts the foundational sketch. Remember, in the beginning, light pencil strokes are your best friend!
This guide consists of 13 systematic steps, commencing with the fundamental sketch. Once you've faithfully followed each stage, you may opt to ink the sketch. Remember to exercise patience—wait for the ink to dry before gently erasing the pencil marks. The finale is a colored illustration, serving as a reference for those wanting to explore beyond sketching.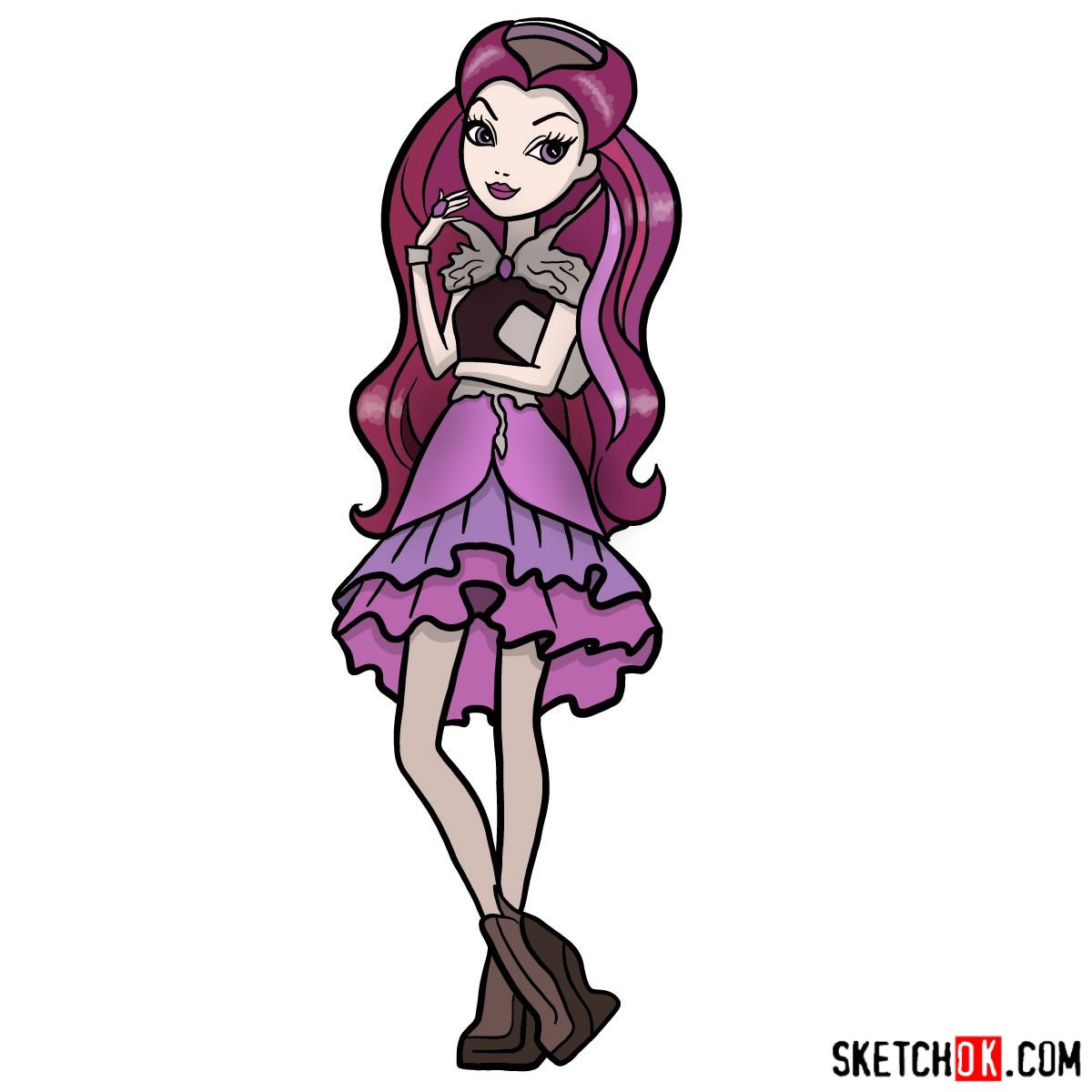 Having embarked on this journey of how to draw Raven Queen, I sincerely hope you find a connection with the character. The essence of drawing is more than just capturing physical attributes; it's about resonating with the soul of the subject. I invite you to support the creation of more free guides and tutorials. By donating, you're not only fueling the creation of additional tutorials but also getting an opportunity to suggest new captivating ideas. Your contribution ensures the longevity and expansion of the SketchOk project. Share this guide with others or follow us on Facebook, Instagram, and Pinterest. Let's keep art alive, one sketch at a time!