Among the charming characters in the iconic "Chowder" series is Gazpacho, the woolly mammoth fruit salesman of Marzipan City. Known for his friendly disposition and unique relationship with Chowder, his persona resonates with many. This guide delves into the art of sketching, focusing on how to draw Gazpacho from the Chowder series.
Gazpacho's Distinctive Appearance
A large brown mammoth physique, complete with tusks that showcase a touch of gold at the end.
Unique gold ring embellishing the tip of his trunk.
Dark blue trousers paired with navy blue suspenders, highlighted with green pins.
A turquoise shirt.
Comfortable dark blue shoes and a matching blue headband to top it off.
If you're looking to enrich your drawing with more characters, consider sketching Gazpacho's close friend, Chowder. Their bond is palpable in the series and can add depth to your artwork.
About the Gazpacho Drawing Guide
This guide simplifies the drawing process into 8 comprehensive steps. Here's an insight into our guide's color-coded strategy:
Red Color:

Represents the current drawing step to concentrate on.

Black Color:

Displays lines from previous steps, providing a seamless continuation.

Grey Color:

Illustrates the basic sketch, setting the right proportions using faint pencil strokes.
Commence with the foundational sketch as the first step. Upon meticulously completing the 14 steps, artists may decide to ink their sketch. It's crucial to let the ink dry entirely to evade smudging. Subsequently, the foundational pencil lines can be gently erased, presenting a flawless artwork.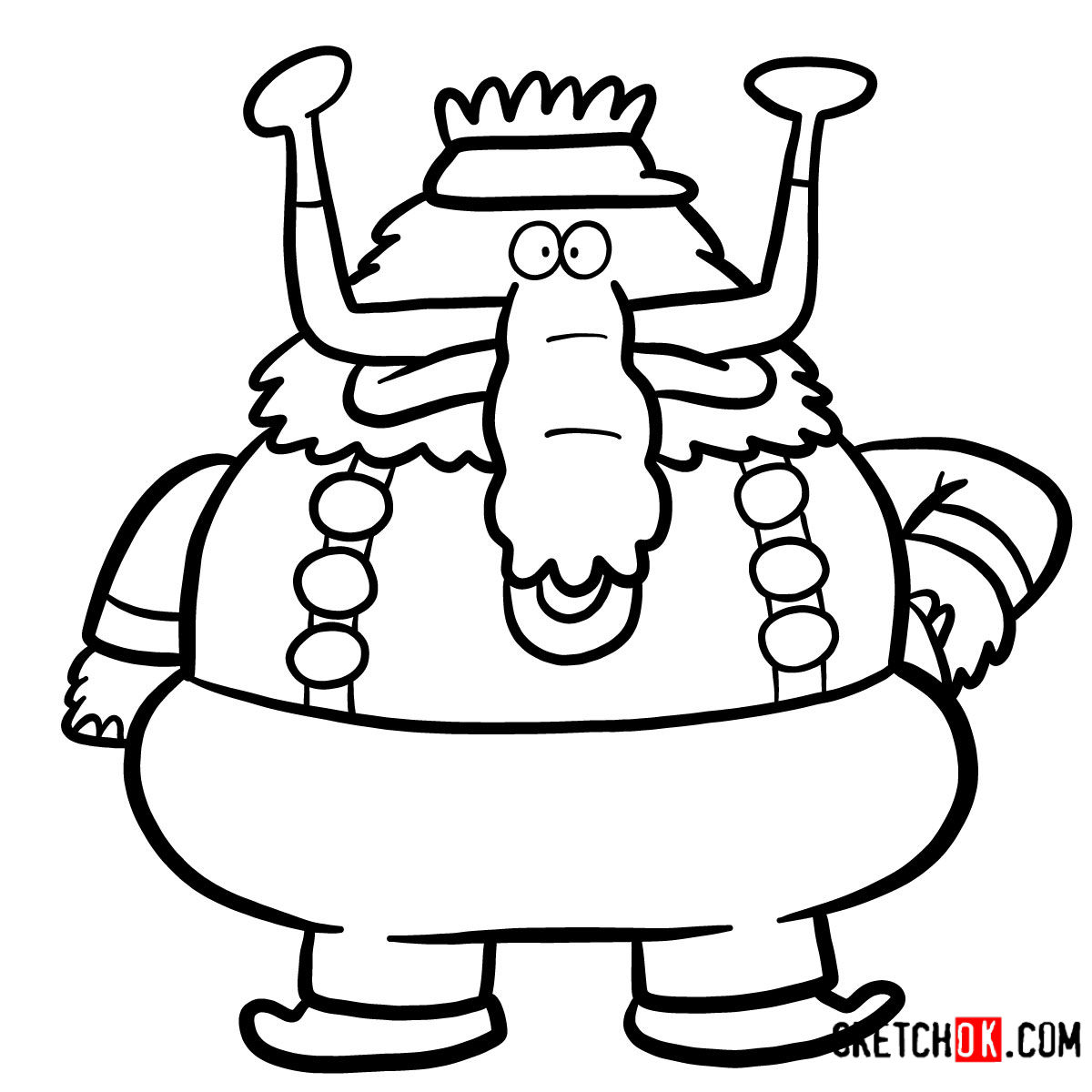 Thank you for choosing this guide on how to draw Gazpacho from Chowder. Sharing this tutorial with budding artists or on platforms such as social media can immensely help the SketchOk initiative. When you find value in our carefully curated guides, consider supporting our project by making a donation. Your generosity not only facilitates the creation of more free drawing tutorials but also empowers you to propose ideas for future lessons. The sustenance and growth of our artistic community are largely dependent on contributions from enthusiasts like you. Stay engaged through our Facebook, Instagram, and Pinterest channels, and continue to foster your artistic aspirations with SketchOk.