Have you ever wondered how to draw Rayquaza, the serpentine Dragon/Flying-type Legendary Pokémon from Generation III? This awe-inspiring creature is the version mascot for Pokémon Emerald, known for its fierce gaze and elongated body. Well, wonder no more. We have crafted a comprehensive guide that will take you through 14 steps, simplifying the process and making it fun and engaging.
Visualizing Rayquaza
Before we delve into the guide, let's take a moment to understand Rayquaza's appearance. Rayquaza is a long, green, serpentine Pokémon with captivating yellow eyes. Notable features include:
Yellow, linked, circular markings running down its body
A pink lining inside its mouth
Sharp claws on its hands
A powerful constrictor body
Ability to float and control the speed, direction, and altitude of its levitation
A Delta-shaped jaw and yellow energy "ribbons" when in Mega form
With these details in mind, you'll be able to visualize Rayquaza more clearly as you work through each step of the tutorial.
The Art of Drawing Rayquaza
The guide's layout uses a color-coding system to help you identify the stage of the drawing process:
Red Color:

Indicates the current step you should be focusing on.

Black Color:

Represents the lines you have previously drawn.

Grey Color:

Marks the basic sketch used for proportions.
The tutorial is broken down into 14 steps, with the first two dedicated to creating a basic sketch of Rayquaza using light pencil strokes. This sketch will serve as your framework and guide you through the drawing process.
If you enjoy drawing Rayquaza, consider adding related characters to your sketch. Some of these include Deoxys, Garchomp, Blaziken, Mew, and Pikachu. Each one presents a unique challenge and opportunity to improve your drawing skills.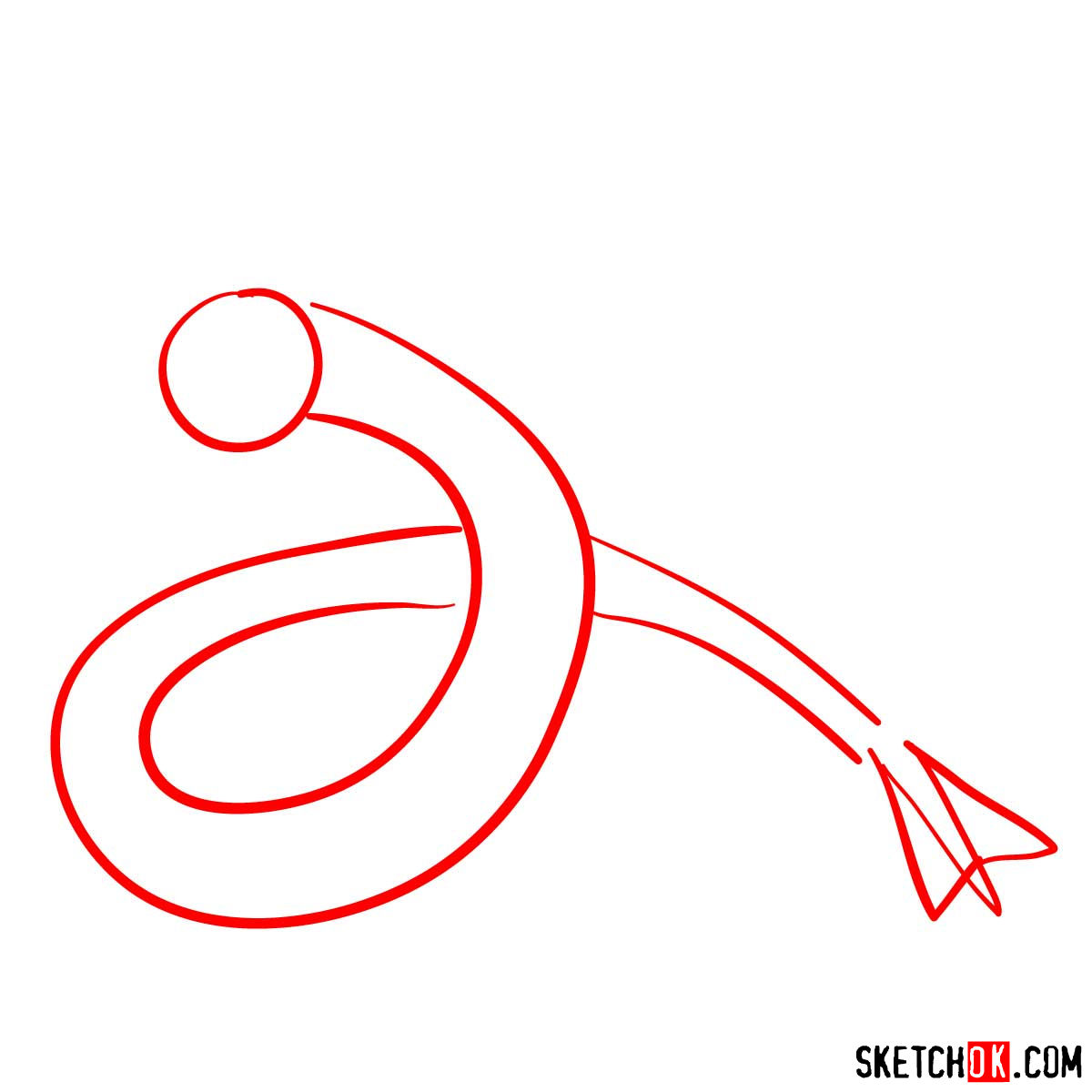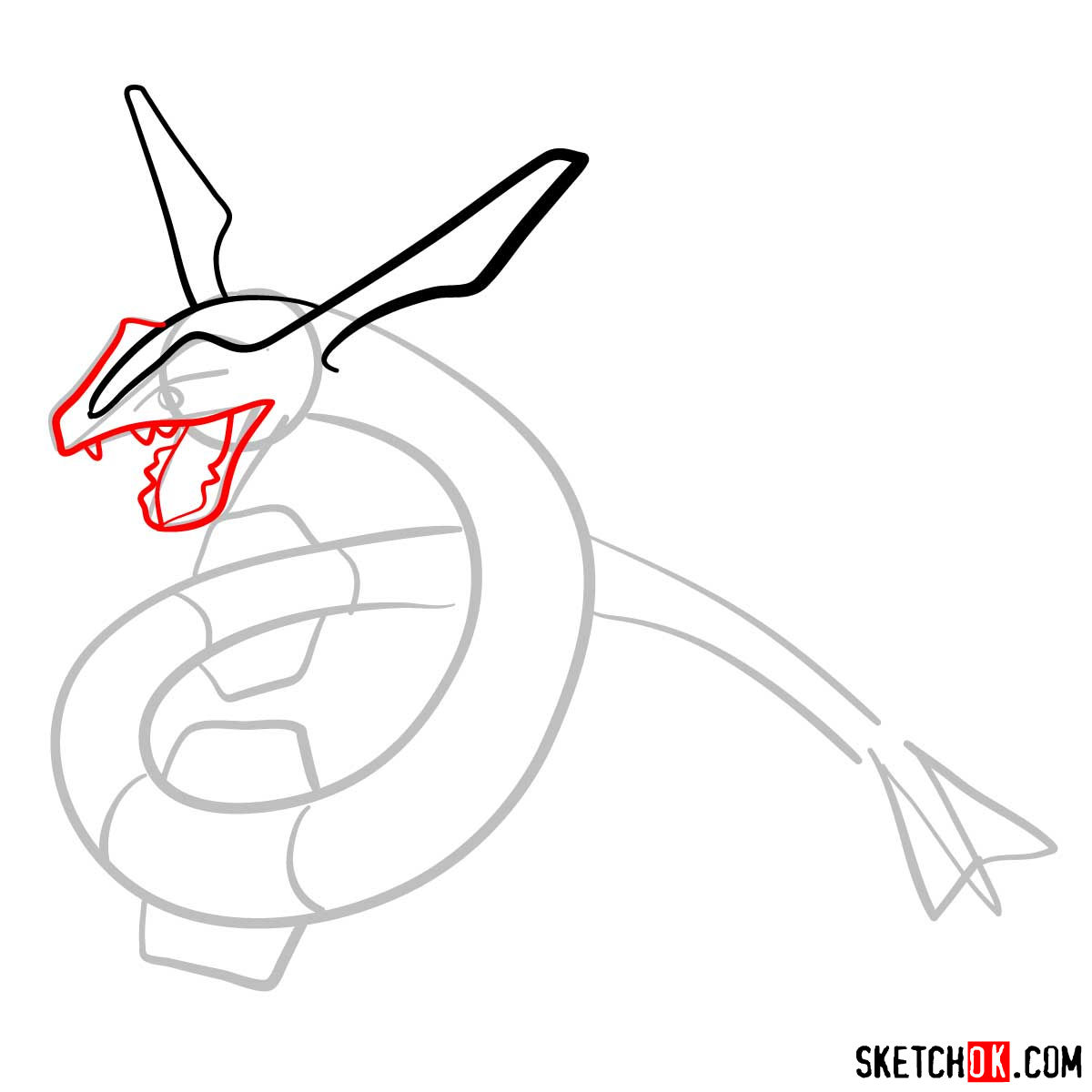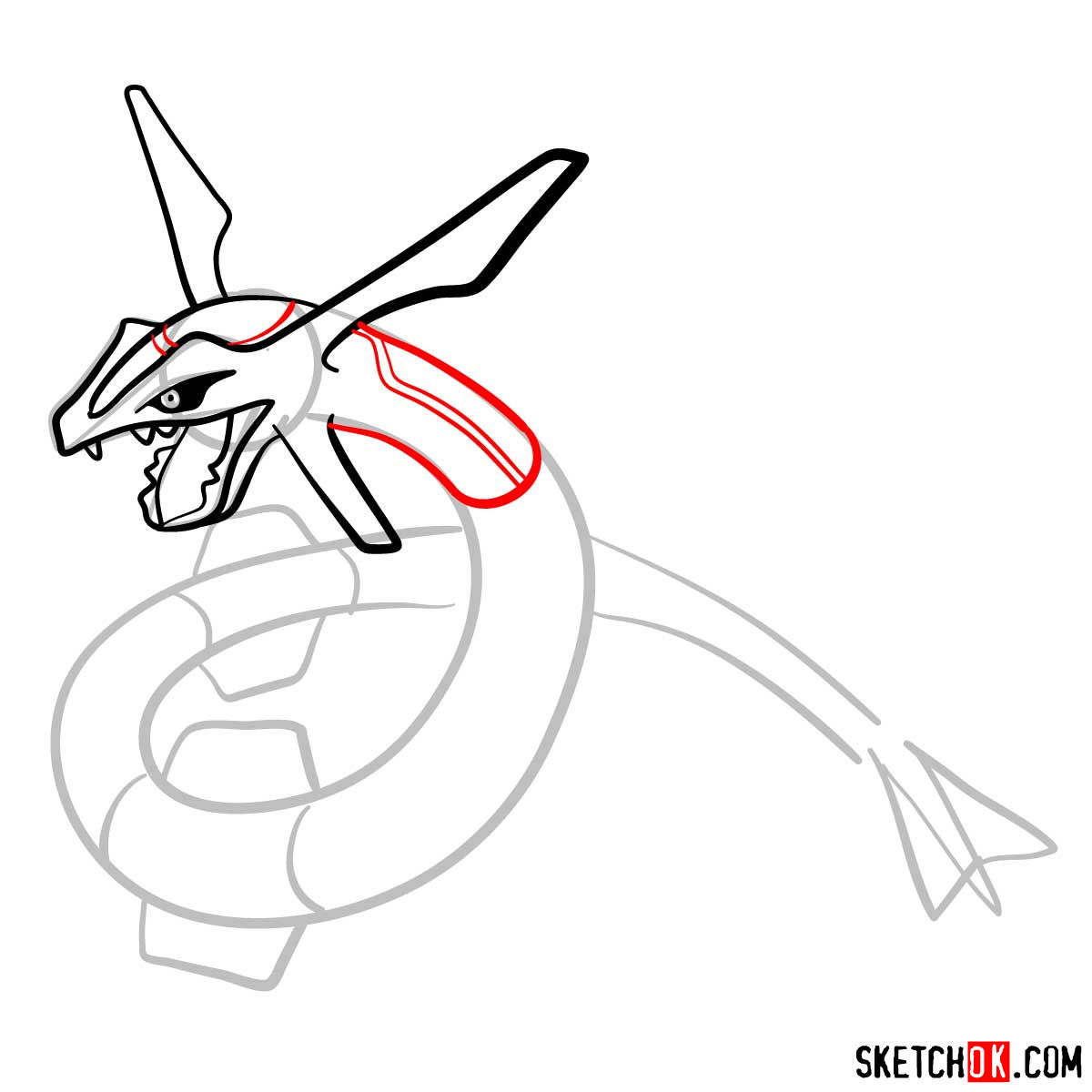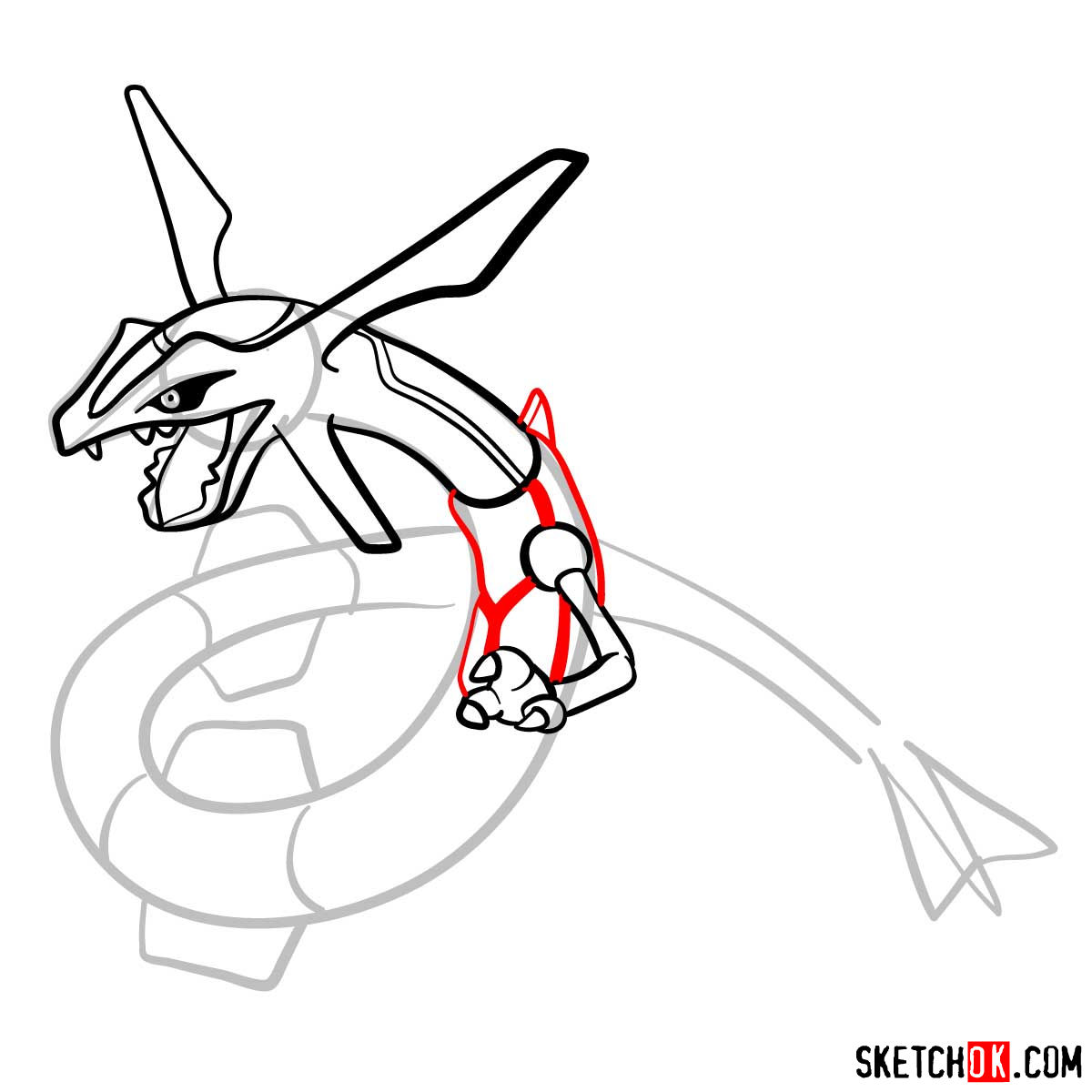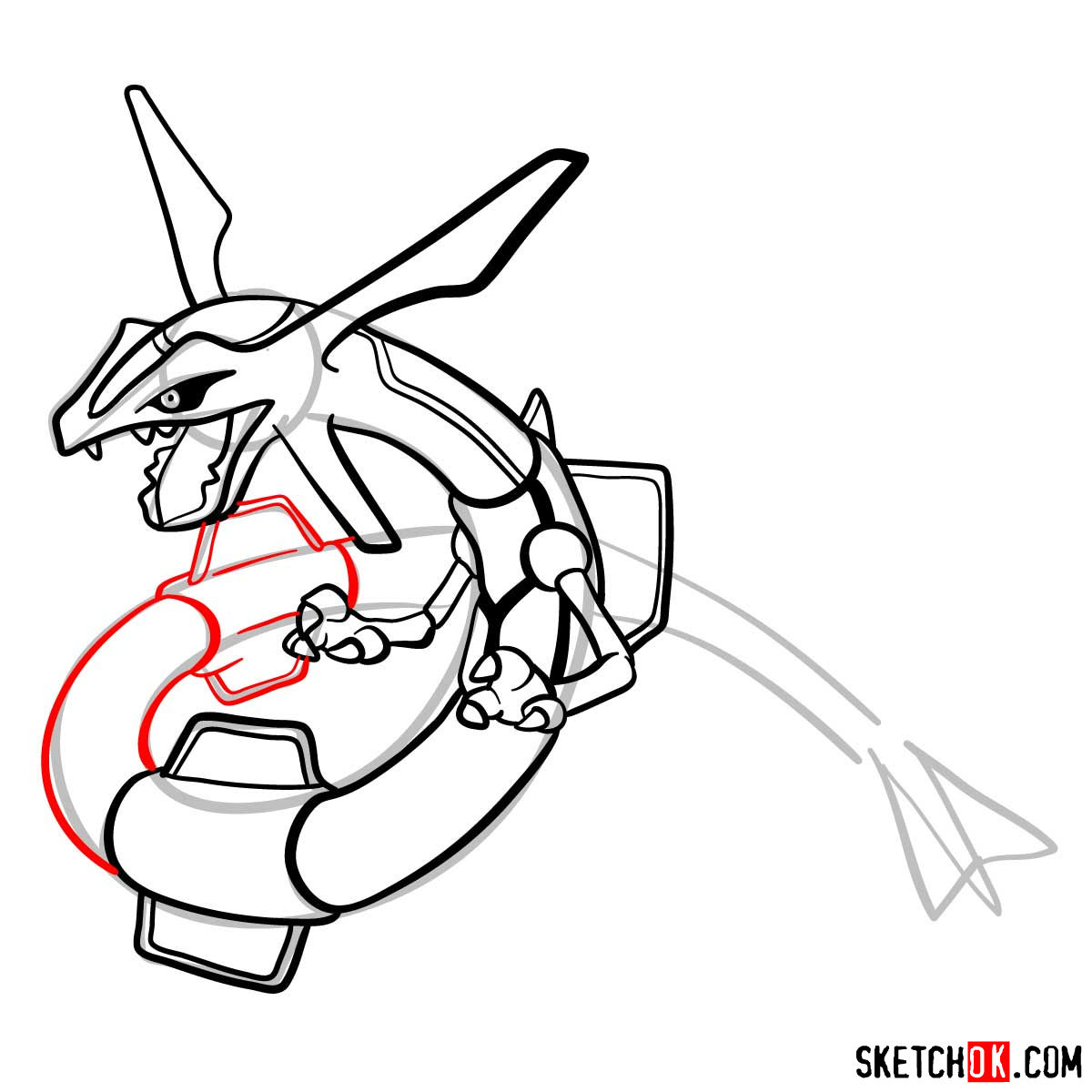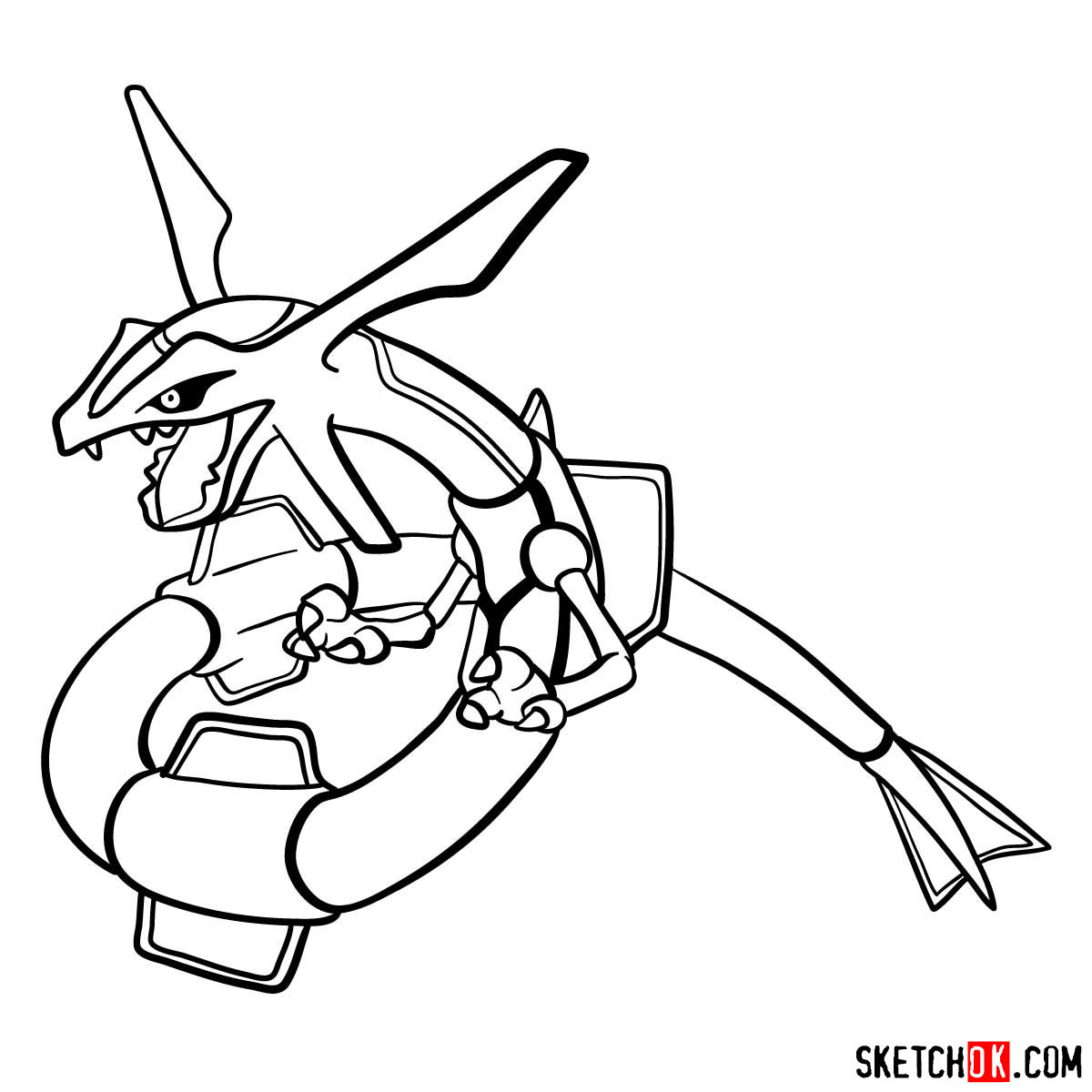 Wrapping Up
As the creator of this guide, I appreciate the time you've taken to read through it and apply the steps. Creating and maintaining the SketchOk project takes considerable time and effort, and your support is invaluable. If you found this tutorial helpful, please consider donating at Buy me a Coffee.
Your donations keep this project alive and ensure we can continue providing these free, step-by-step drawing tutorials. You can also share the link to this guide with others, or anywhere on the web to spread the word. Encourage your friends and fellow Pokémon enthusiasts to learn how to draw Rayquaza, and help them unlock their artistic potential!
Also, don't forget to follow us on our social media platforms:
Thank you for your support. Keep practicing, stay inspired, and continue your journey in the art of Pokémon drawing!