One of the most iconic characters in the Boruto series is Sakura Uchiha, formerly known as Sakura Haruno. This kunoichi from Konohagakure's Uchiha Clan plays a significant role as the mother of Sarada and Sasuke's wife. Her journey from a shy, withdrawn child to the world's best medical-nin and Head of the Medical Department is truly inspiring. If you're intrigued by characters like Naruto Uzumaki and Sasuke Uchiha, learning how to draw Sakura full body from Boruto will be a delightful addition to your sketchbook.
Key Features to Keep in Mind
Facial Features: Sakura's expressive eyes and characteristic forehead are essential. Remember her unique "Inner Sakura" expression!
Outfit Details: Sakura's adult attire, especially the red qipao top and Uchiha Clan crest, requires attention to detail.
Posture and Proportions: As a kunoichi, her posture displays confidence. Ensure correct proportions to capture her essence.
Sketching Tip: Always start with light strokes for the initial structure. This ensures easy correction and refining later on.
Understanding the Drawing Guide
This guide consists of high-quality images, with each image representing a crucial step in the sketching process. Following them meticulously will allow you to gradually witness the magic of Sakura coming alive on your canvas. Here's how to decipher the color codes:
Red Color:

Focus on this! It represents the current step in the drawing.

Black Color:

These lines are from the previous steps, giving you a context.

Grey Color:

Indicates the basic proportions sketch, the foundation of your drawing.
The journey begins with a basic stick figure, followed by rough sketches that map out Sakura's distinct features. As you progress through the 26 steps, your sketch will start getting more detailed. Once satisfied, artists can opt to ink the sketch. Ensure the ink dries properly before gently erasing the pencil lines to avoid smudges, preserving the beauty of your creation.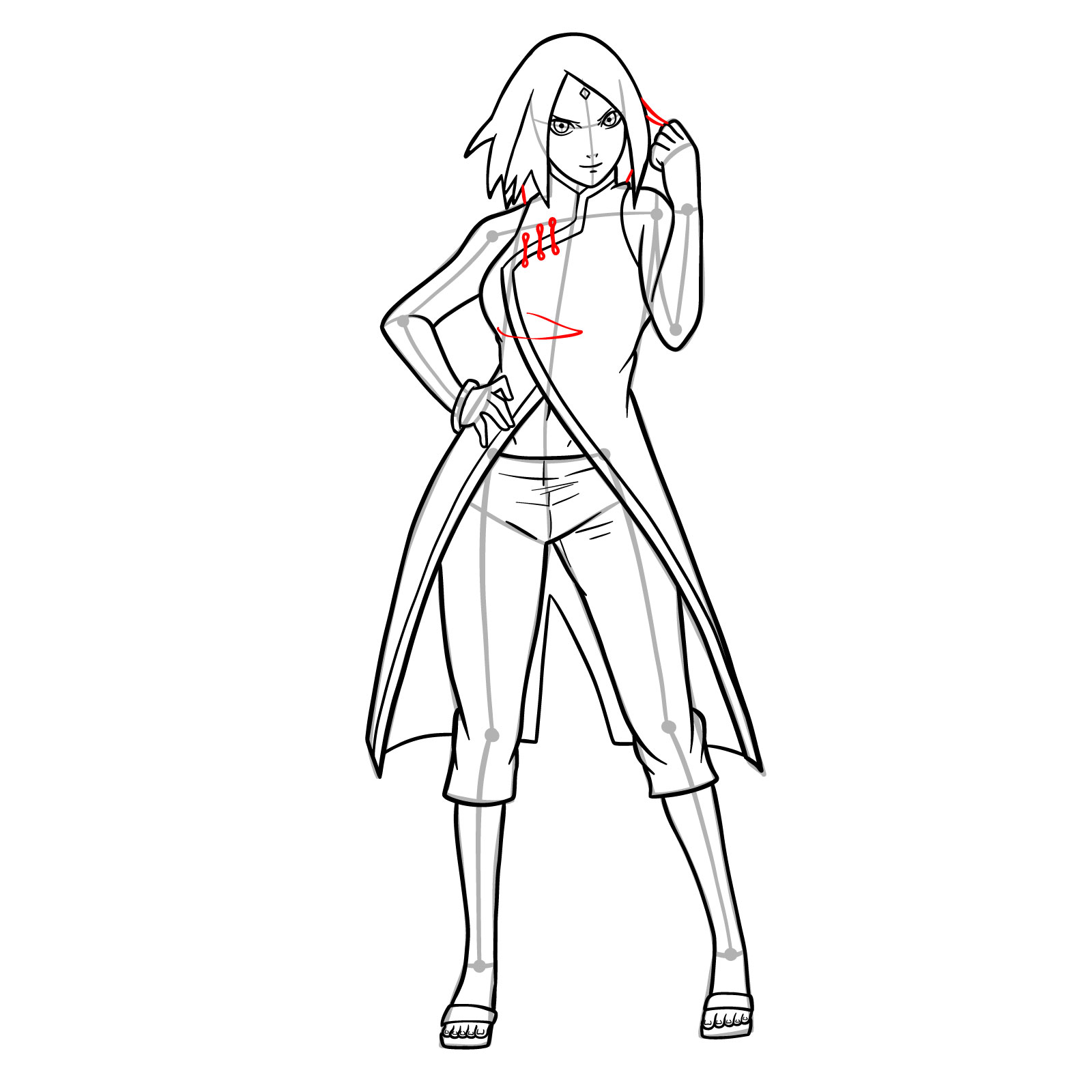 A Glimpse into Sakura's Journey
Understanding Sakura's evolution and her intrinsic relationship with characters like Sasuke and Naruto can provide a unique perspective while sketching. Her "Inner Sakura" persona, her initial struggles, her aspirations, and her undying love for Sasuke make her character multidimensional. Capturing these emotions can enhance the depth of your sketch, making it more than just a drawing but a story on paper.
Concluding Your Artistic Venture
In this endeavor of learning how to draw Sakura full body from Boruto, it's not just about lines and proportions. It's about capturing the essence of a character deeply woven into the fabric of the Boruto narrative. As you put down your pencil, take a moment to appreciate your masterpiece. And if you've enjoyed this guide and wish to explore more, don't hesitate to check out the complete guide or share your work with us on our social platforms.
Stay connected with us on Facebook, Instagram, and Pinterest. Let's keep the art alive!