Welcome to the devilish world of Chainsaw Man! Today, we're going to learn how to draw the enigmatic Angel Devil, a unique devil who's unlike any of his brethren. With his striking appearance and intriguing personality, Angel Devil is a fascinating character to sketch and perfect for devilishly talented artists.
So, who is this Angel Devil? Well, for starters, he's a devil with a twist. Despite being part-angel, he harbors virtually no hostility towards humans, which makes him a unique case among devils. However, don't be fooled by his angelic appearance – he still believes that humans ought to die in pain. He also has a preference for soft-serve ice cream and has been known to eat just about anything, including zombie flesh and the corpse of a fellow devil.
Angel Devil's appearance is just as unique as his personality. He's always seen wearing the Public Safety suit and has striking vermilion red hair that falls to his shoulders, topped off with a halo floating above it. You'll also notice the white wings on his upper back, which make for an interesting challenge when it comes to drawing.
Unleashing the Heavenly Devil: Tips and Tricks for Drawing Angel Devil
Let's face it, drawing the Angel Devil from Chainsaw Man can be a real challenge. But don't worry, we've got your back with some tips and tricks to help you bring this unique character to life on paper!
Get the proportions right: Angel Devil's body is slim and slender, so it's important to get the proportions right. Start by drawing a rough stick figure to guide the overall shape and size of the body.
Don't forget the wings and halo: Angel Devil's most recognizable features are his white wings and floating halo. Don't forget to include these details in your drawing, and make sure to give them a delicate, ethereal appearance.
Show off his personality: Angel Devil may be a devil, but he's not your typical antagonist. Show off his laid-back, lazy personality in your drawing by giving him a relaxed posture and a bored expression.
Experiment with different poses: Angel Devil may not be the most combative character, but that doesn't mean he can't strike a pose! Experiment with different poses to show off his wings and halo, and to capture his personality.
Have fun with it: Drawing should be a fun and creative experience, so don't be afraid to let loose and have fun with your drawing of the Angel Devil. Experiment with colors, shading, and other creative techniques to make your drawing truly stand out!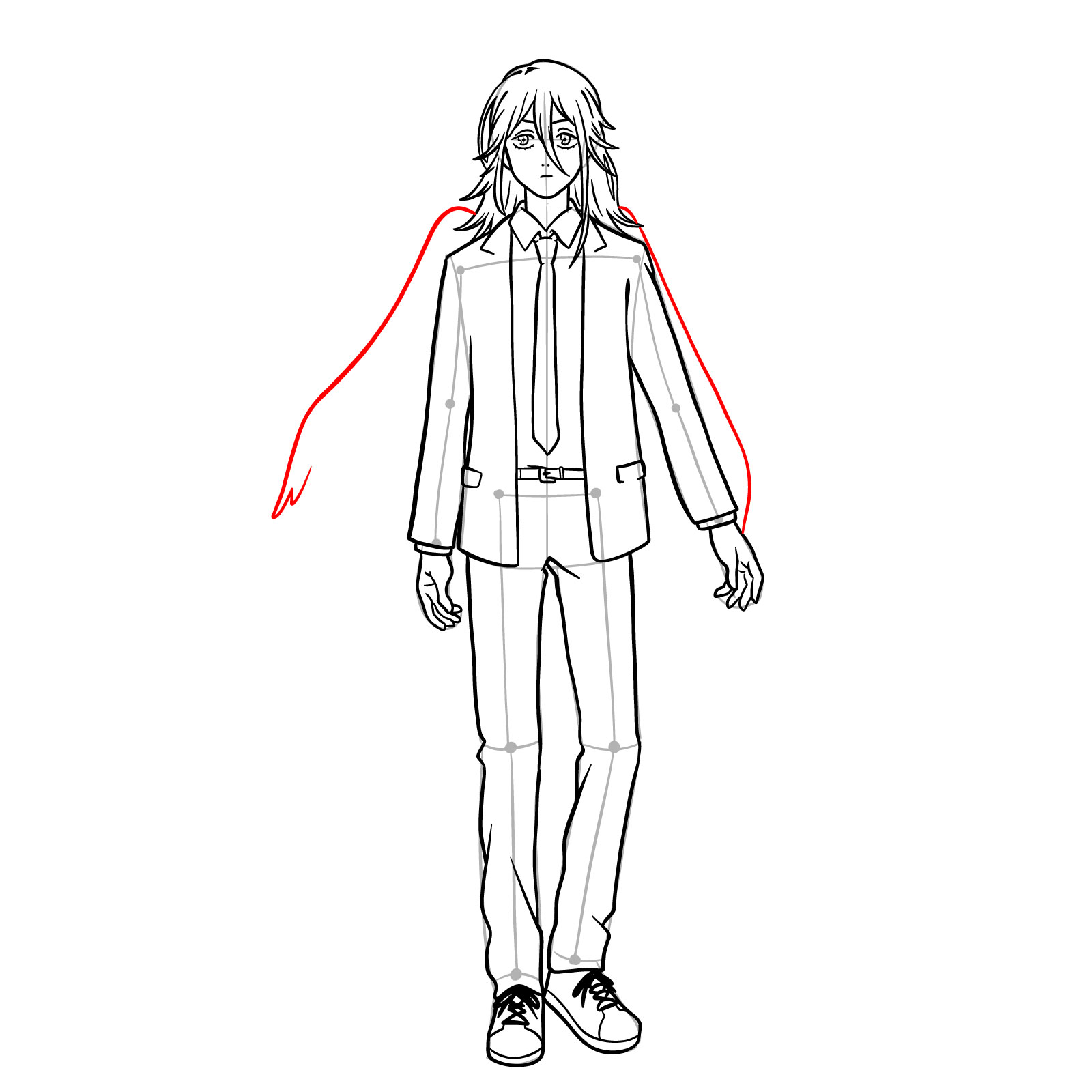 Drawing Angel Devil is a heavenly experience, but why stop there? The world of Chainsaw Man is full of intriguing and eccentric characters just begging to be brought to life on paper. From the demonic Quanxi to the quirky Himeno, there's no shortage of unique characters to draw.
Want to capture the power and grace of the Chainsaw Man himself? Or maybe you're more interested in the delicate features of the enigmatic Reze. The world of Chainsaw Man is your oyster, so let your creativity run wild and try your hand at drawing any character that catches your eye. Who knows, you might just discover a new favorite!
And with that, we've reached the end of our Angel Devil drawing adventure! Congratulations on adding this fascinating character to your artistic repertoire. Remember to keep practicing and experimenting with your drawings to really bring out your own unique style.
But before we go, I'd like to ask for your support. Creating entertaining content like this takes time and effort, and your donation would go a long way in helping me to continue providing valuable resources to aspiring artists like you. So if you found this guide helpful, please consider making a donation to show your appreciation and help me keep creating more content. Every little bit helps!