Are you ready to soar into the world of superheroes and learn how to draw Hawkgirl? This fierce founding member of the Justice League, also known as Shayera Hol, has a fascinating backstory and a striking appearance. Follow our detailed guide as we share valuable tips and insights to help you create an impressive Hawkgirl drawing. Let your imagination take flight as you explore her character and connections with other heroes in the DC Universe.
A Brief History of Hawkgirl: Shayera Hol
Hawkgirl, or Shayera Hol, was a prominent member of the Thanagarian military before she became a founding member of the Justice League. Known for her fiery and aggressive personality, she displays a wild temperament but remains committed to fighting for good. Shayera played a significant role in the Thanagarian invasion, where she ultimately chose to side with Earth.
Besides her strength and combat skills, Hawkgirl's distinctive features include her large wings and unique Nth metal mace. As a member of the Justice League, she has fought alongside other notable heroes, such as Batman, Superman, and Wonder Woman. With a captivating backstory and stunning appearance, Hawkgirl is an exciting character to bring to life through your artwork.
Helpful Tips for Your Hawkgirl Drawing
Before diving into the world of Hawkgirl, it's essential to arm yourself with a few practical tips. Remember, practice makes perfect, and these suggestions will help you improve your skills and create a captivating piece of art:
Study the character's appearance carefully, paying special attention to her wings, armor, and weaponry.
Begin with a rough sketch, focusing on proportions and the overall structure of her body.
Take your time when drawing her wings, as they are a crucial element of her character design.
Don't forget to add details to her costume, including the intricate patterns on her armor.
Experiment with different poses, capturing Hawkgirl in action or at rest.
As you become more confident in your drawing abilities, try incorporating backgrounds and other elements to create a complete scene.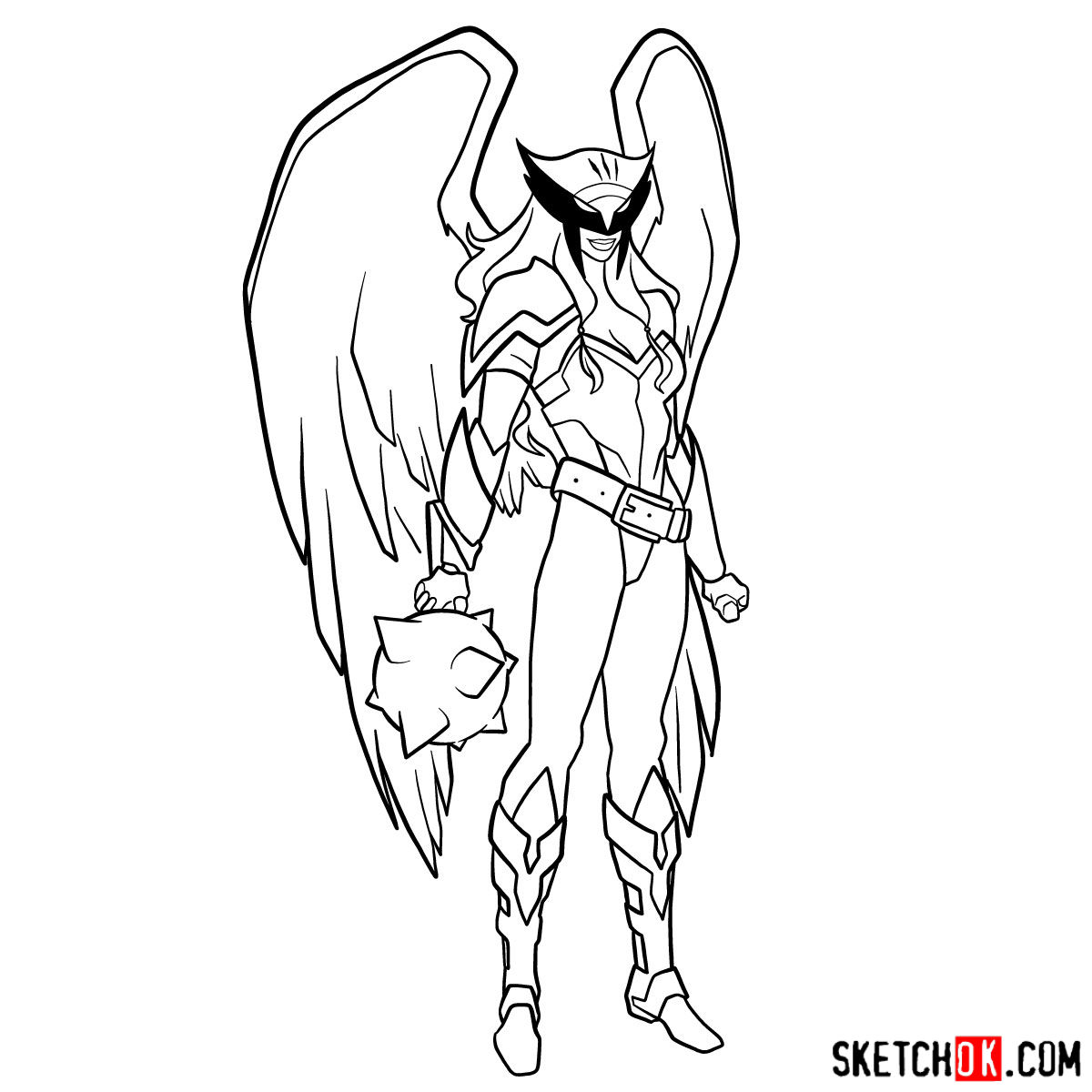 Get to Know Hawkgirl's Fellow Heroes
As a member of the Justice League, Hawkgirl has formed close bonds with various heroes. Some of her notable teammates include:
Green Lantern, a member of the intergalactic police force wielding a powerful ring.
The Flash, the fastest man alive with the ability to tap into the Speed Force.
Martian Manhunter, a shapeshifting alien with telepathic powers.
As you progress in your artistic journey, consider exploring these characters' unique appearances and stories. Developing your skills by drawing various superheroes will only enhance your artistic abilities and help you create a diverse portfolio.
Remember, the sky's the limit when it comes to your creativity. Don't be afraid to explore the vast world of superheroes, incorporating new characters and techniques into your drawings. As you master the art of drawing Hawkgirl, you'll unlock the potential to create stunning artwork that showcases your passion for the DC Universe.
If you found this guide helpful and would like to support our work, consider buying us a coffee at https://www.buymeacoffee.com/sketchok. Your support will help us continue creating helpful content for aspiring artists like you.