Welcome to another exciting chapter of our Pokémon drawing tutorials! Today, we're going to guide you on a creative journey to illustrate Silvally, the Normal-type Legendary Pokémon, introduced in Generation VII.
The Aesthetics of Silvally: Highlighting Key Features
Understanding the key features and appearance of Silvally is essential to capturing its spirit in your drawing. As a mighty and respected creature, Silvally possesses several unique attributes:
Head: A crested, bird-like head with a metallic beak and pointed red ears. The crest on its head is similar to a cockatoo's.
Fur and Fin: Silvally has white fur around its neck and a white fin on its tail, a transformation from its pre-evolution.
Body: Lacking the helmet of its pre-evolution, Silvally's body is sleek and streamlined, built for agility and speed.
For a comprehensive Pokémon sketch, consider incorporating related characters like Arceus, a legendary Pokémon considered to be the original one, or perhaps Rattata or Machamp to create a dynamic battle scene. Also, you can explore drawing other Generation VII Pokémon like Vikavolt or Mimikyu to add more context to your artwork.
Understanding the Guide: The Color Coding System
Our tutorial utilizes a color coding system to simplify the drawing process:
Red Color:

Highlights the current step of the drawing process that you should be focusing on.

Black Color:

Shows the lines you've already drawn in previous steps.

Grey Color:

Indicates the basic proportions sketch, which you should initially draw with light pencil strokes.
This guide encompasses 16 steps, with the initial 2 dedicated to outlining the basic sketch. Remember, the initial steps are fundamental to maintaining correct proportions throughout your drawing.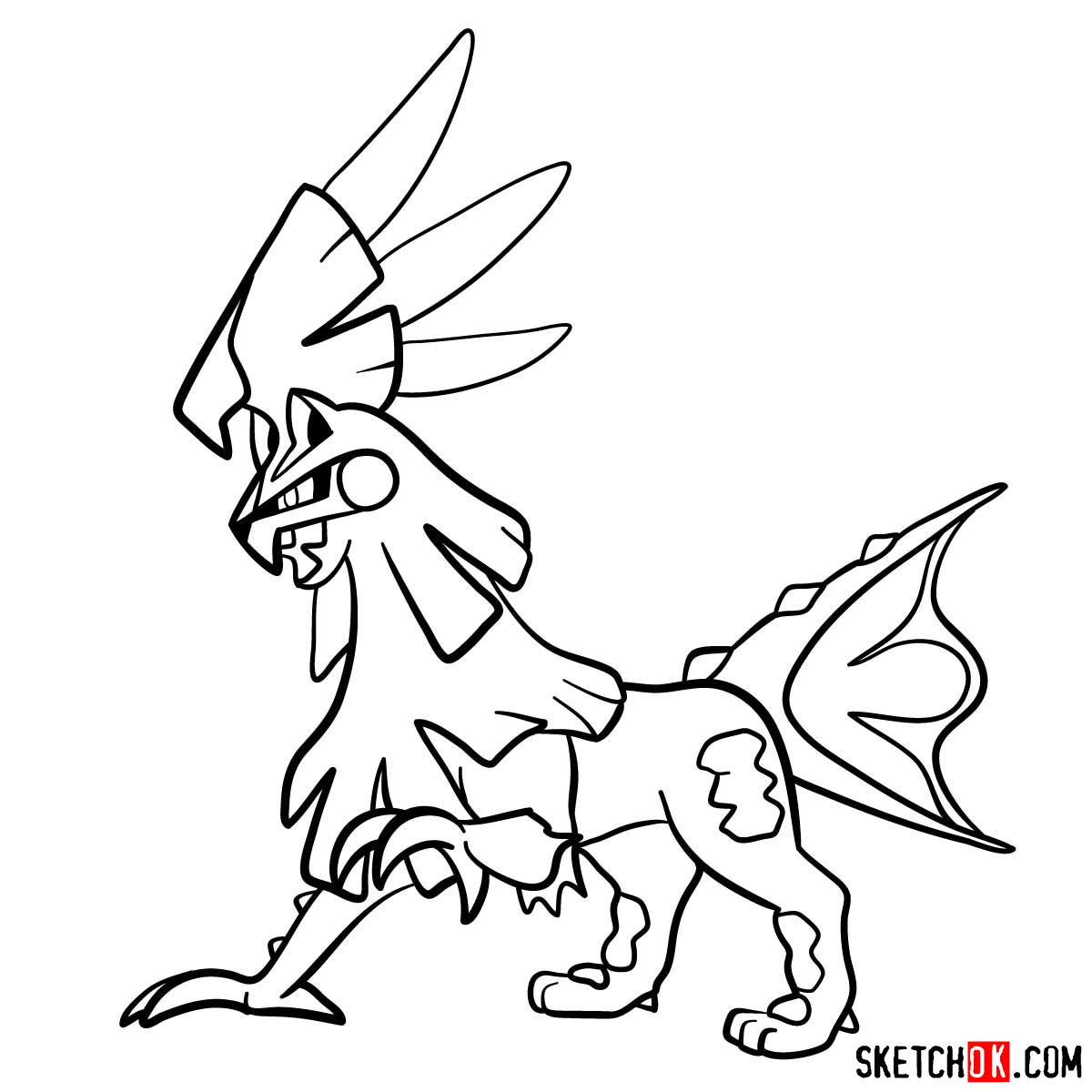 Wrap-Up:
Congratulations! You've successfully learned how to draw Silvally. Don't forget to share your masterpiece with your friends, family, and fellow Pokémon enthusiasts. And why not take a snapshot of your work and share it on social media?
We've also got accounts on Facebook, Instagram, and Pinterest. Follow us to stay updated with new tutorials and share your progress with a wider community!
Your creativity is what keeps SketchOk alive, and your support is what keeps it thriving. If you've found this guide helpful and would like to see more, consider donating. Your donations go a long way in maintaining our project and helping us create more detailed, step-by-step guides to draw your favorite characters. Remember, every sketch begins with a simple line, and every artist began as a novice. So, keep practicing, keep sketching, and keep creating wonders!