Are you a fan of Marvel Comics and its vast universe of fascinating characters? If so, you'll love learning how to draw Danielle Moonstar to the waist! Danielle Moonstar, a powerful mutant and a member of the New Mutants, is an inspiring character with a captivating story. By following our guide, you'll soon be able to create a stunning Danielle Moonstar drawing that you can proudly show off to your friends and family.
Danielle Moonstar, also known as Mirage, is a Cheyenne mutant who has the ability to create illusions based on the fears and desires of those around her. She has been a part of various Marvel teams, including the X-Men and the X-Force. Her unique powers, combined with her strong leadership skills, make her an intriguing character to draw.
Understanding Danielle Moonstar's Appearance
Before you start drawing Danielle Moonstar, it's essential to familiarize yourself with her appearance. She has long, dark hair, typically tied back in a ponytail or braided. Danielle's outfit varies throughout her appearances in the comics, but her most iconic look features a blue and yellow costume with red details. When drawing her to the waist, focus on capturing her strong, athletic build and confident posture.
As a member of the New Mutants, Danielle Moonstar often interacts with other superheroes like Magik and Wolfsbane. Consider including these characters in your drawing or practicing sketches of them separately to expand your Marvel drawing repertoire.
Tips and Advice for Drawing Danielle Moonstar to the Waist
With a solid understanding of Danielle Moonstar's appearance and backstory, you're ready to start drawing. Here are some helpful tips and advice to guide you through the process:
Begin with basic shapes: To capture Danielle Moonstar's proportions accurately, start by sketching basic shapes. This will serve as a foundation for your drawing and help you maintain correct proportions as you add details.
Focus on her posture: Danielle Moonstar is a confident and powerful character. To convey this in your drawing, pay close attention to her posture. Ensure her shoulders are squared, and her chest is slightly puffed out, showcasing her strength and self-assurance.
Pay attention to details: Danielle Moonstar's costume features intricate designs and patterns. Take your time when drawing these elements, as they will bring your Danielle Moonstar drawing to life.
Experiment with shading: Add depth to your drawing by using shading techniques. Focus on areas where shadows and highlights would naturally occur, such as her facial features, hair, and the folds of her costume.
Be patient and practice: Drawing takes time and patience. Don't be discouraged if your first attempt doesn't turn out as you envisioned. Keep practicing and refining your skills, and you'll see improvement over time.
Bringing Your Danielle Moonstar Drawing to Life
Once you've sketched the basic shapes and added details, it's time to refine your drawing. Use an eraser to remove any unnecessary lines and smudges. Carefully outline your drawing with a fine-tipped pen or pencil, ensuring that your lines are smooth and crisp. If you'd like, you can also color your Danielle Moonstar drawing using colored pencils, markers, or digital coloring tools.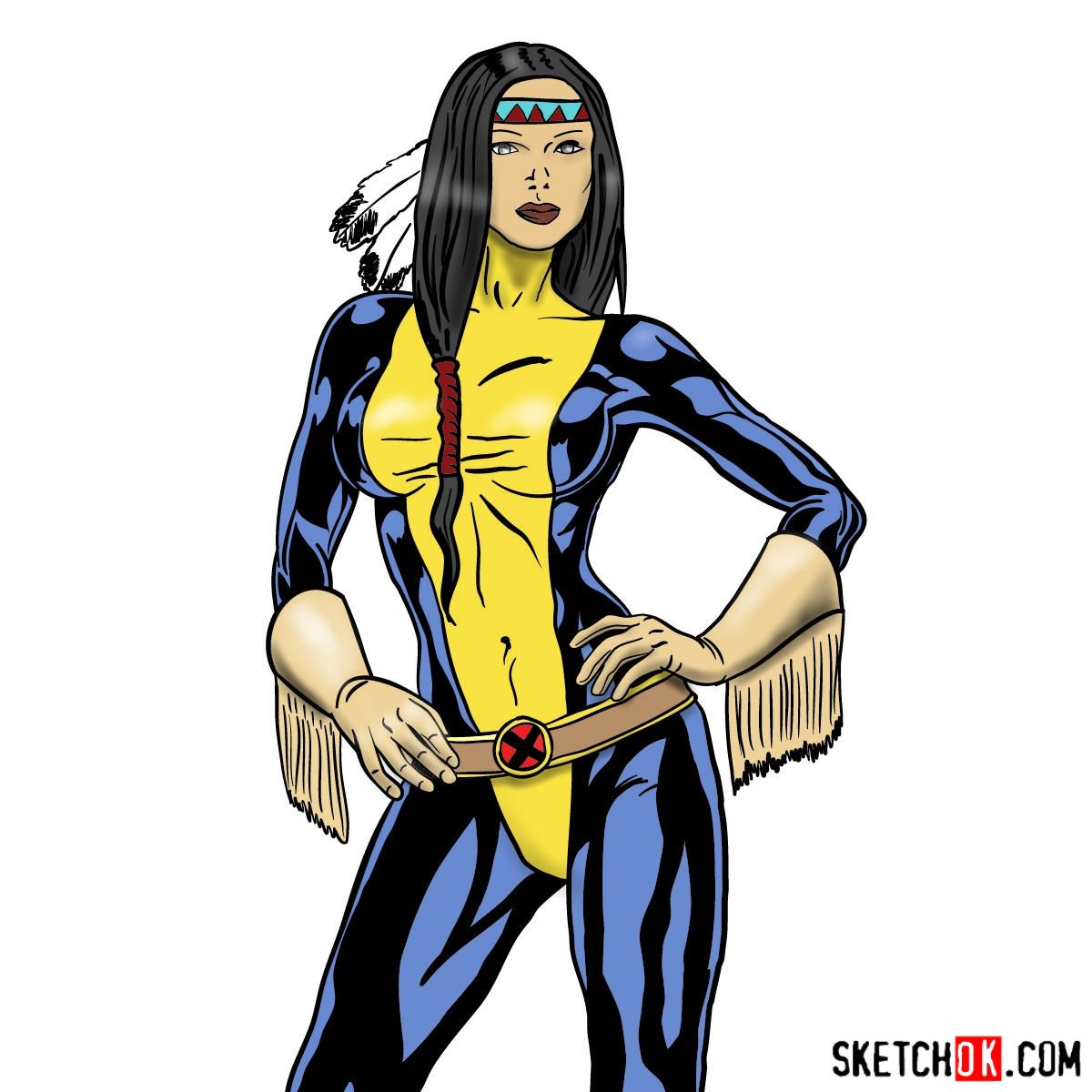 As you gain confidence in your drawing skills, consider experimenting with different poses and perspectives to create dynamic and engaging illustrations of Danielle Moonstar and other Marvel superheroes.
Share Your Marvelous Creation
Congratulations on learning how to draw Danielle Moonstar to the waist! With practice and persistence, you'll soon be able to create stunning illustrations of your favorite Marvel characters. Remember to have fun, experiment with different techniques, and share your artwork with others to inspire and delight fellow Marvel fans.
If you enjoyed this guide and found it helpful, consider supporting me on Buy Me a Coffee. Your support helps me create more informative and engaging content for aspiring artists like you. Happy drawing!