Welcome to the captivating realm of artistic expression! Today, we embark on an exciting journey to draw Snap, Crackle, and Pop – the timeless trio designed by Vernon Grant in the early 1930s. Known for their charm and iconic catchphrase, they've delighted generations of cereal lovers and art enthusiasts alike.
Character Analysis: Snap, Crackle, and Pop
Understanding the characters' appearances and their key traits will help you capture their essence accurately. Below, we outline the salient features and personalities of our delightful trio:
Snap: Recognizable by his chef's toque, Snap is the oldest of the trio. He often plays the role of the problem solver, somewhat like a wise older brother. In your drawing, you might want to capture his sense of responsibility and leadership.
Crackle: Typically wearing a red or striped tomte's tuque, Crackle is the unsure "middle child" known for his humor. To capture his unique personality, focus on drawing a playful and mischievous expression.
Pop: Sporting a drum major's shako, Pop is the youngest and the center of attention. He is the mischievous yet clumsy youngster. When drawing Pop, think of capturing his exuberant, adventurous spirit.
Remember, these characters share a brotherly bond, so consider arranging them in a way that represents their camaraderie and fun-loving spirit. Additionally, you might find it interesting to add other mascots to your drawing, like Cap'n Crunch or Chester Cheetah, to create an intriguing mascot universe!
About the Drawing Guide
This step-by-step guide, divided into 22 steps, is designed to help you create a detailed and well-proportioned drawing of Snap, Crackle, and Pop. Each step builds on the previous one, helping you piece together the drawing. The guide uses a color-coding system:
Red Color:

Represents the current step you should be focusing on.

Black Color:

Showcases the lines you have previously drawn.

Grey Color:

Demonstrates the basic sketch and proportional structure.
In the final stages of the drawing, you have the option to ink your sketch. Using a fine liner or a brush pen, trace over your pencil sketch, adding depth and clarity. It's important to wait until the ink dries before erasing your pencil sketch to prevent smudging. The last image of the guide serves as a color reference for those who wish to add vibrant hues to their creation.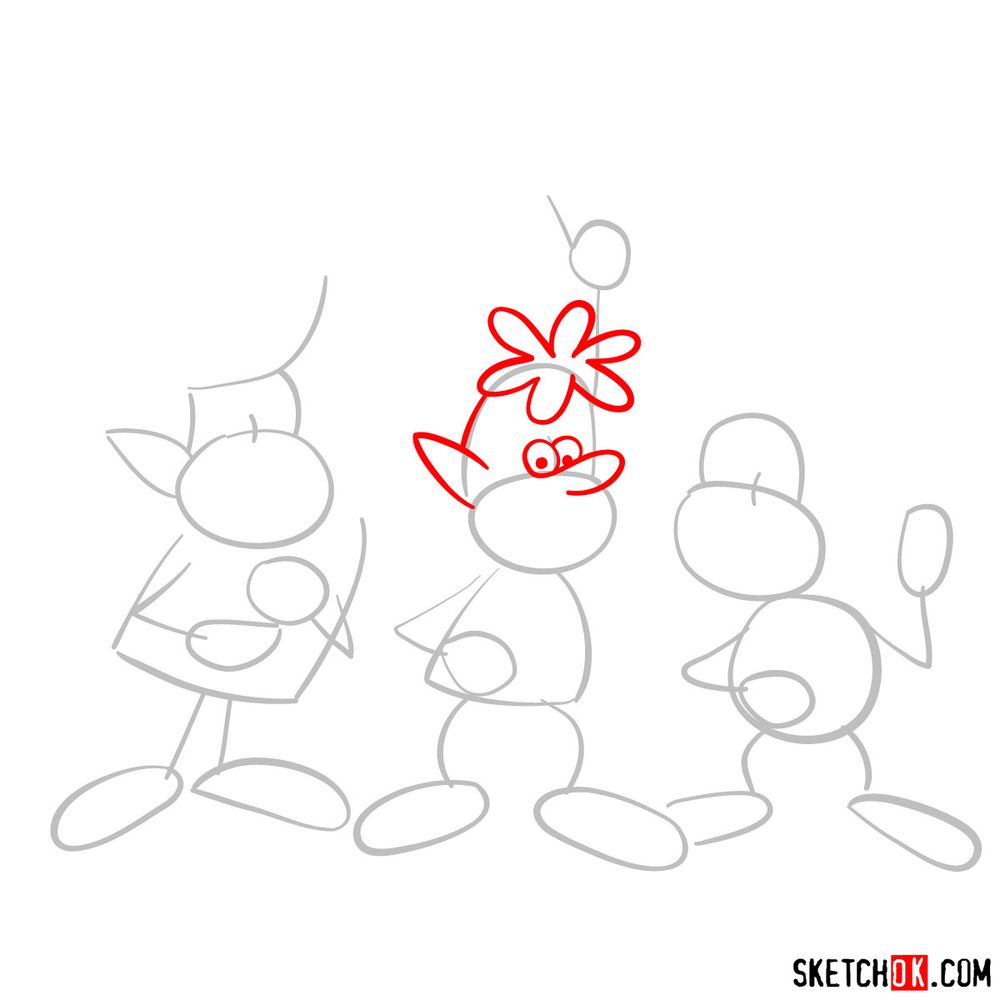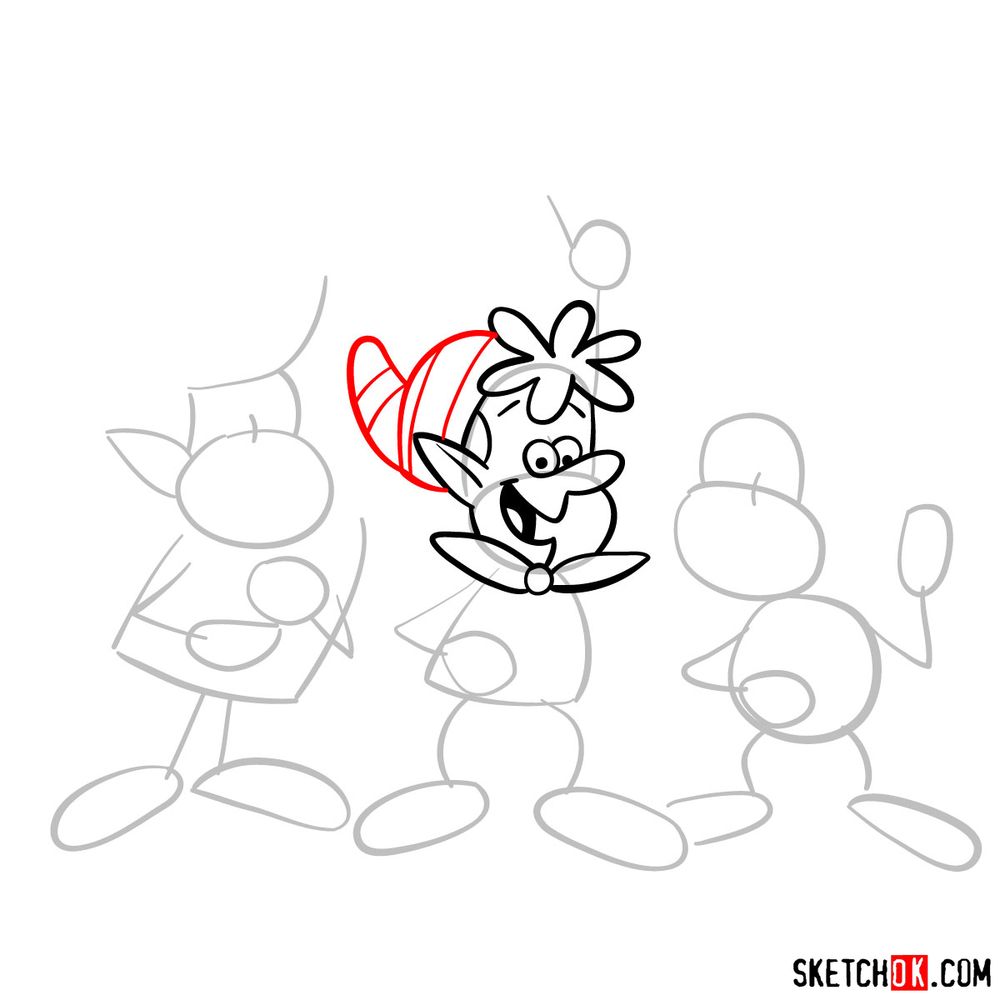 Frequently Asked Questions
What's the best technique to draw Snap, Crackle, and Pop's hats?
When drawing the hats, focus on the shape. Snap's chef toque should be fluffy and tall, Crackle's tomte's tuque round and soft, and Pop's shako should have a rigid and cylindrical structure. Lightly sketch the shape first and then add details.
How to sketch their unique expressions?
For Snap's wise demeanor, a calm expression will do. Crackle's mischievous nature can be captured with a grin, and Pop's youthful exuberance can be reflected in a wide, cheerful smile. Remember, their large, expressive eyes are key to their appeal.
How to represent their brotherly relationship?
Consider portraying them in a group, showcasing interaction. Snap could be leading, Crackle cracking a joke, and Pop engaged in some mischief. This could convey their brotherly bond and individual personalities effectively.
Concluding Thoughts
Congratulations on completing the tutorial on how to draw Snap, Crackle, and Pop. We hope you enjoyed this artistic journey as much as we enjoyed guiding you. As you share your artwork with others and continue exploring your creative journey, consider supporting the SketchOk project.
Your generous donations at BuyMeACoffee allow us to create free drawing guides, entertain new tutorial suggestions, and keep the art community thriving. Also, don't forget to follow us on Facebook, Instagram, and Pinterest to stay updated with new tutorials and share your artwork with a passionate community of artists.
So, take a moment to share the link to this guide and spread the joy of drawing. Let's continue to learn, create, and inspire!