Embarking on an artistic endeavor into the world of Disney Fairies, we'll delve into capturing the essence of Iridessa, the talented light fairy. From her radiant personality to her shimmering appearance, this guide on how to draw Iridessa from the Pirate Fairy ensures you sketch her true luminance.
Character Insights: Shining Light on Iridessa
A beacon of brilliance in the Disney Fairies franchise, Iridessa's captivating aura extends beyond her role as a light fairy. Recognized for her meticulous nature and unyielding determination, she stands as a testament to perseverance and optimism.
Personality: Detail-oriented and a perfectionist, Iridessa's radiant optimism often collides with her cautious nature. She embodies both concern for her surroundings and unwavering loyalty to her friends.
Physical Appearance: Distinguished by her African features, Iridessa dons a sunflower-petal dress with a unique bodice. Her attire in Pirate Fairy, however, witnesses a transformation as she embraces the role of a garden fairy.
Related Characters: Considering enhancing your artwork? Include characters like Tinker Bell or Zarina, highlighting the deep bond and shared adventures they cherish in Pixie Hollow.
Navigating the Guide: Drawing Made Simple
Mastering the art of drawing Iridessa demands understanding the guide's structure and its unique color-coding system.
Red Color:

Illuminates the current drawing step, guiding your hand through the process.

Black Color:

Highlights the foundational lines, paving the way for your next move.

Grey Color:

Showcases the primary sketch, particularly essential in the first two proportion-focused steps.
With 14 sequential steps, it's paramount to give due attention to the initial two that lay the groundwork for your drawing. Once you've traced the intricate lines of Iridessa, inking stands as the final touch. Patience is key – wait for the ink to dry thoroughly before erasing the underlying pencil marks to preserve the clarity of your masterpiece.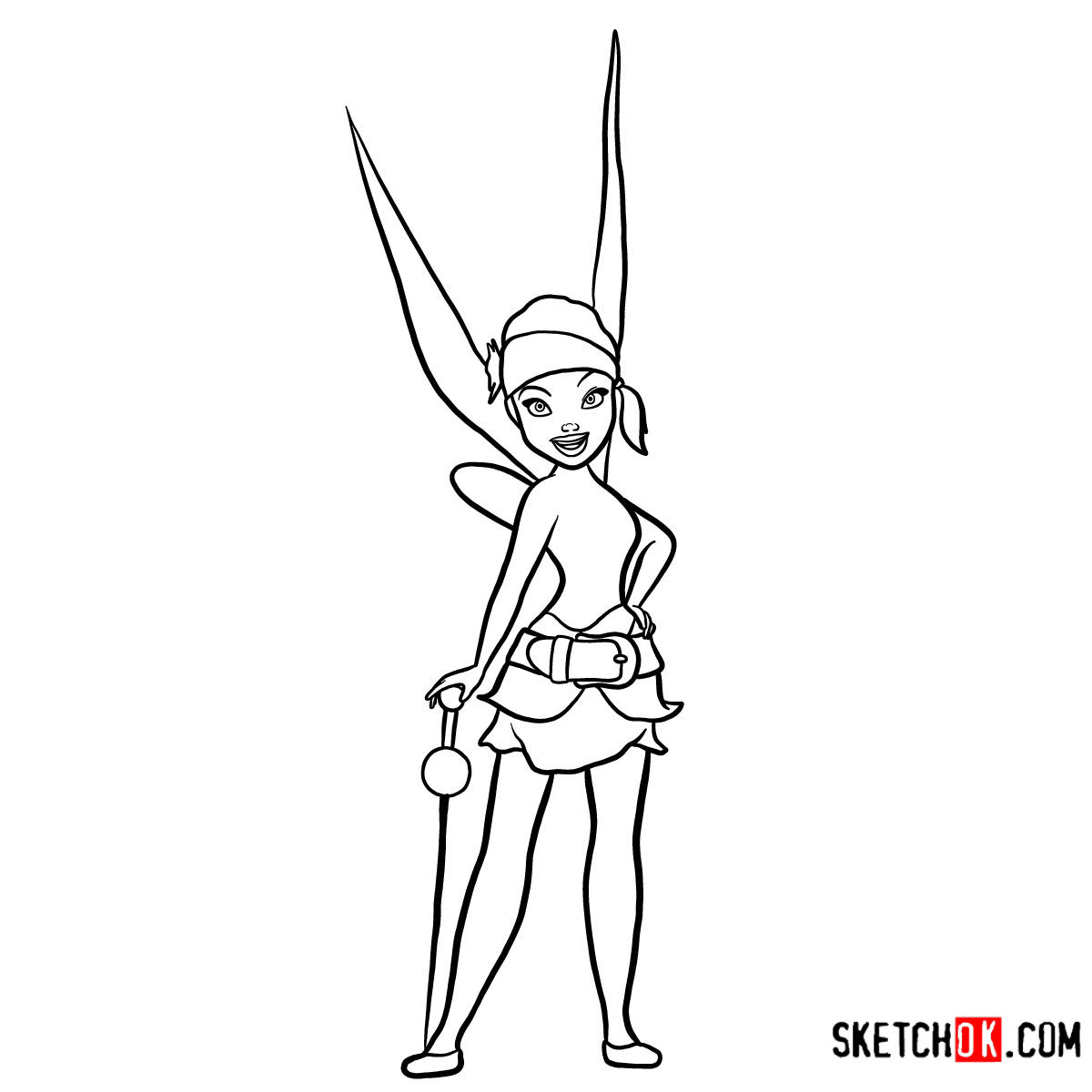 Your passion for art fuels us, and we strive to provide you with detailed guides to hone your skills. By sharing this how to draw Iridessa guide on social media, you not only spread the joy of drawing but also inspire others to embark on their artistic journey. Following us on Facebook, Instagram, and Pinterest ensures you stay updated with our latest tutorials.
For those who value our efforts and wish to contribute, donating is a heartfelt way to support. Your contributions allow us to craft more free drawing tutorials. Furthermore, by donating, you can suggest ideas for new tutorials, ensuring we cater to your artistic aspirations. Let's together ensure that SketchOk remains a vibrant community for art enthusiasts worldwide.