Every aspiring artist has that one character they've always wanted to sketch perfectly. If Lightning Dust – the vivacious Pegasus from My Little Pony – is yours, you're in luck. This tutorial offers a systematic guide on how to draw Lightning Dust and captures her energetic essence. Whether you're a budding artist or an aficionado, our guide is tailored for all.
A Glimpse at Lightning Dust
Physical Traits: Lightning Dust boasts a unique eye color she sometimes shares with Sassaflash. Her cutie mark – a lightning bolt adorned by three stars – adds flair to her character.
Character Analysis: An ambitious flyer, her speed and love for soaring set her apart. Despite her camaraderie with Rainbow Dash, her competitiveness can often be her Achilles heel. Her recklessness has often jeopardized the safety of others, casting a shadow on her leader status.
The Essence of This Guide
This guide offers a comprehensive journey into the world of sketching, particularly focusing on how to draw Lightning Dust. It comprises a total of 14 instructive steps. The steps are color-coded for your ease:
Grey Color:

Represents the foundational sketch. Initiate with light strokes for the perfect proportional drawing.

Red Color:

Illustrates the current step in focus.

Black Color:

Denotes the lines drawn in preceding steps.
Remember, the first step revolves around constructing a basic sketch. The concluding step encourages artists to ink their sketches. Inking breathes life into your sketches but requires patience. After inking, always wait for the ink to dry to prevent smudging before erasing the foundational pencil marks. To wrap it all, the last image presents a colored rendition of Lightning Dust, serving as an ideal color reference.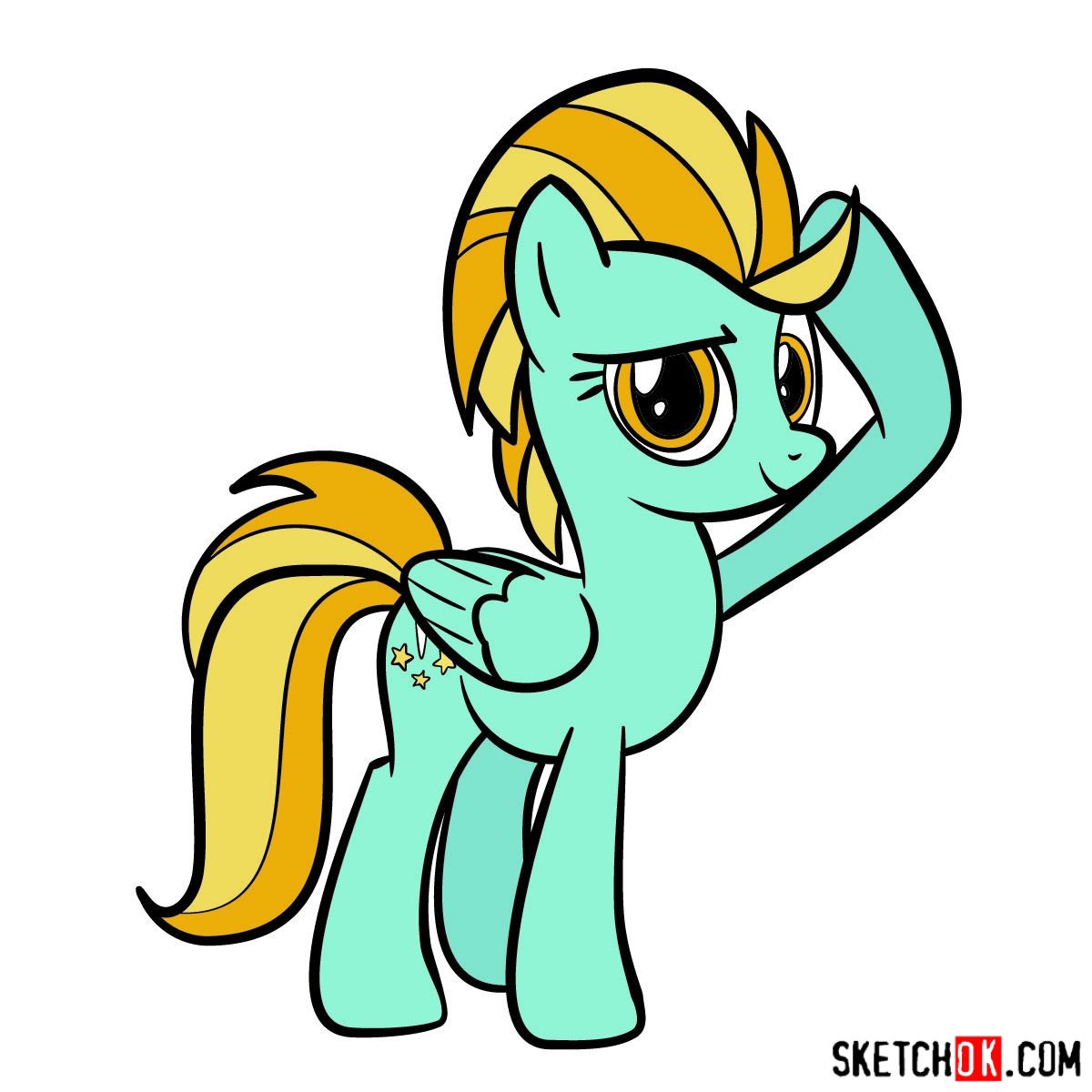 Conclusion: Bringing Lightning Dust to Life
Your journey through this tutorial brings you one step closer to mastering the art of sketching Lightning Dust. If you've found this guide enlightening, we urge you to donate. Your contributions empower us to create more free drawing guides and consider your valuable suggestions for future tutorials. Sharing is caring! Let the world know about this guide. Share the link on Facebook, Instagram, Pinterest, or anywhere on the web. Your support keeps the SketchOk project soaring!