Bringing joy with her signature cross-eyed expression, Derpy Hooves has undeniably become a fan-favorite among My Little Pony enthusiasts. In this guide, you will learn how to draw Derpy Hooves, capturing her unique essence and delightful appearance. Whether you're a novice artist or a seasoned drawer, this tutorial promises to offer valuable insights and techniques.
Grasping Derpy Hooves' Unique Appeal
Googly-eyed Expression: One of the most distinctive features of Derpy is her playful cross-eyed look, an attribute that turned into a signature due to fan adoration.
Gray Pegasus Pony: The essence of Derpy's design is her simplistic gray coat that sets the stage for her vibrant personality.
Backdrop Appearances: Often seen in the background, Derpy's "Where's Waldo" style cameos have become a treat for fans to spot in various episodes.
When attempting to capture her character, consider drawing her alongside Rainbow Dash, or incorporate fellow pegasus ponies like Fluttershy and Twilight Sparkle, to craft an ensemble MLP artwork.
Guided Drawing: Color-Coded Steps
Let's embark on this 12-step journey:
Red Color:

Indicates the current drawing step. Always ensure you pay close attention to this as it guides the process.

Black Color:

Represents previously drawn lines, serving as a reference for continuity.

Grey Color:

Shows the basic foundational sketch. Remember, the initial stage is vital, so maintain light pencil strokes for easy adjustments.
The concluding phase involves inking the sketch. Always wait patiently for the ink to dry completely before erasing underlying pencil marks. This method preserves the clarity of the drawing and prevents smudges. Once complete, the last image stands as a color reference, especially valuable for those who wish to further enhance their artwork.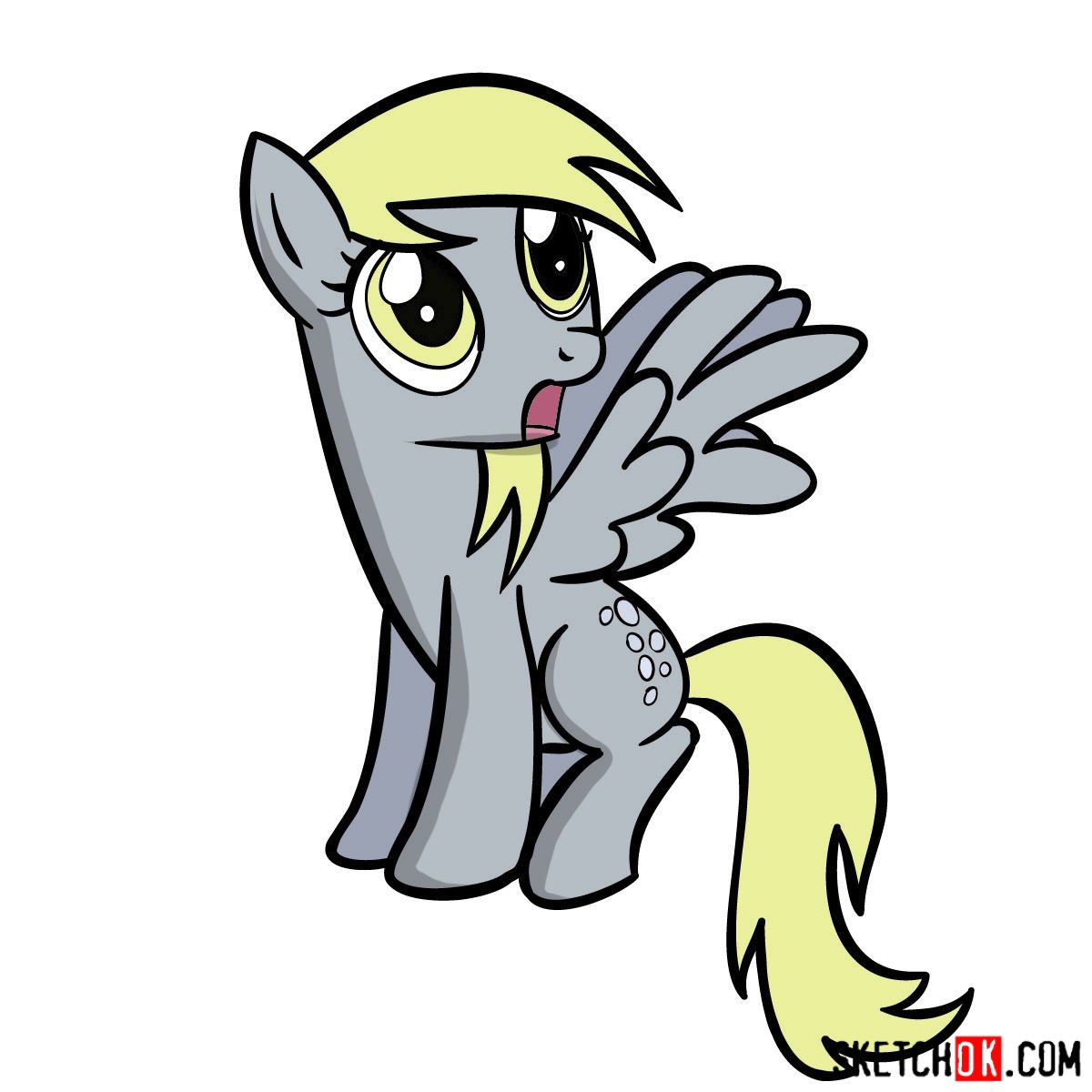 Drawing Derpy Hooves: FAQs
What's the best technique to capture Derpy's signature eyes?
Derpy's eyes are her most defining trait. To capture her cross-eyed expression, start with oval shapes and position the pupils towards the center, slightly overlapping. Practice makes perfect, so sketch several variations until you capture her playful gaze authentically.
How do I draw her simplistic gray coat?
Her gray coat is smooth and streamlined. Begin with gentle curves, ensuring the silhouette matches that of a pegasus pony. The shade of gray should be even, neither too dark nor too light, to truly capture Derpy's essence.
How can I perfect her cameo appearances in the background?
To draw Derpy in her signature cameo style, reduce the detailing and focus more on her distinctive eyes and gray coat. This approach helps in recognizing her easily, even from a distance or when she is placed subtly in the backdrop.