Harold Berman, the iconic character from the renowned Hey Arnold! TV series, has left an imprint in the hearts of many. He's complex, having undergone significant character development from the initial episodes. Ready to learn how to draw Harold Berman? Let's sketch this multifaceted character together.
Understanding Harold's Unique Look
Physique: Harold is notably overweight, which plays a crucial role in defining his character design.
Outfit: He sports a blue baseball cap, a light blue short-sleeved jacket over a white shirt (which occasionally reveals his stomach), gray shorts, white socks, and black shoes.
Facial Features: Distinct yellow eyes (occasionally white), a prominent unibrow, and that unmistakable bottom tooth jutting out.
For those looking to sketch more characters from the Hey Arnold! series, considering adding Patty, Sid, or even the show's protagonist, Arnold, to create a dynamic scene.
Your Guide's Color Map
Before diving into the drawing process, it's crucial to understand the color indicators in our guide:
Red Color:

Marks the current step in your drawing journey.

Black Color:

Highlights the lines drawn in previous steps.

Grey Color:

Indicates the foundational sketch for proportions.
This 9-step guide starts with a basic proportional sketch. By the end, artists can opt to ink their drawing. Remember, after inking, always wait for it to dry before erasing the initial pencil lines to prevent smudges.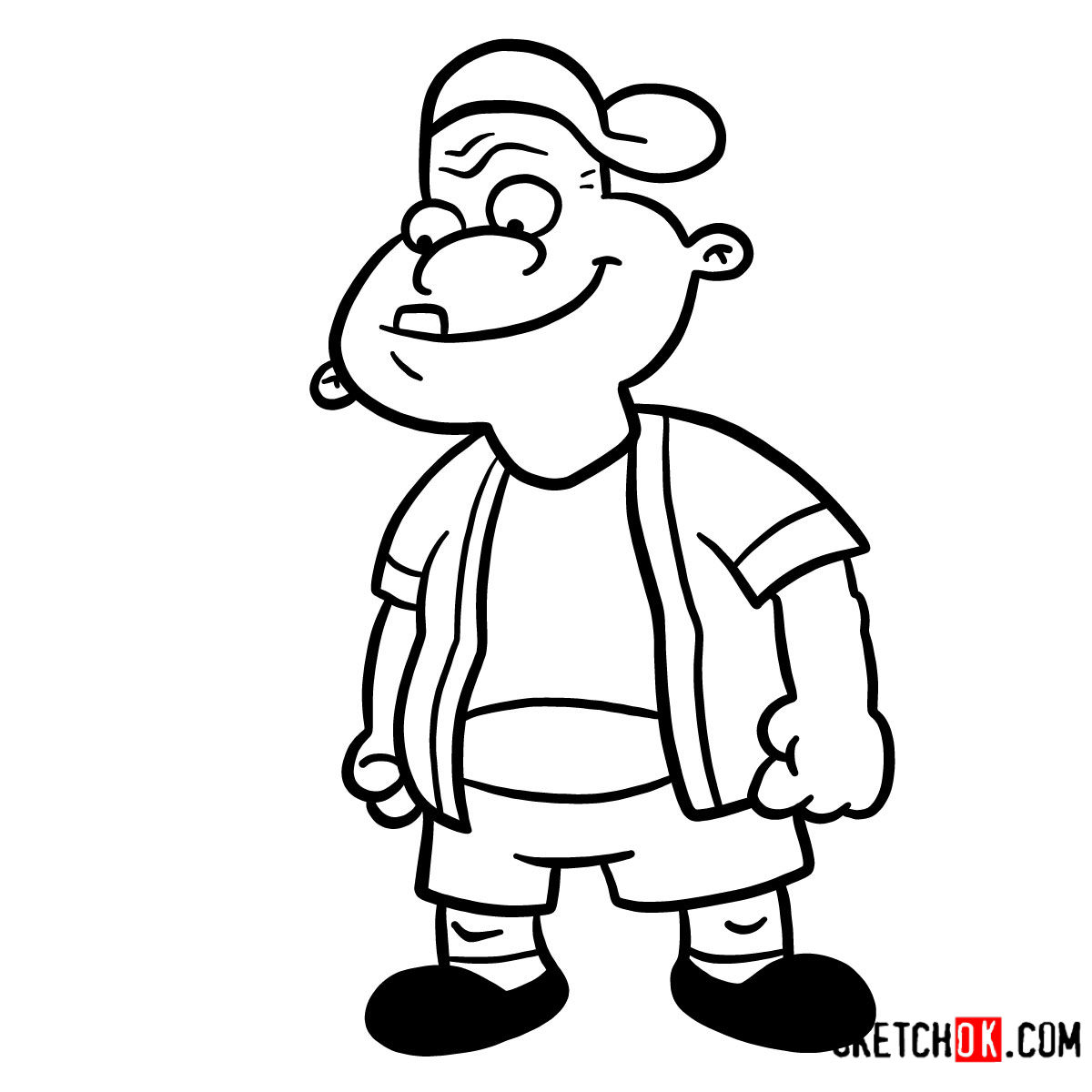 There you have it, a complete guide on how to draw Harold Berman! If you enjoyed this tutorial and found it helpful, please consider donating. Your contributions not only keep this project alive but also allow us to create more free drawing guides. By donating, you can even suggest future tutorial ideas!
Spread the word by sharing this guide link with fellow artists or on your favorite social media platform. Let's keep the art community vibrant! Connect with us on Facebook, Instagram, or Pinterest.
Remember, every sketch starts with a single line. Keep practicing, and soon, you'll master the art of drawing any character, including the beloved Harold Berman from Hey Arnold!